Recruitment and Intern Manager- Folger Shakespeare Library
Washington D.C., DC
Full Time
Manager/Supervisor
ABOUT THE ORGANIZATION
An international hub for Shakespeare scholarship and the study of the early modern period, the Folger Shakespeare Library (Folger) connects the 21st century with William Shakespeare's work, ideas, and times in which he lived. The Folger is dedicated to cultivating new audiences for a new world, with a renewed and revitalized commitment to connecting Shakespeare's stories to the world so that all visitors will find their own stories reflected. The Folger creates lovers of Shakespeare and the humanities through programs that speak directly and powerfully to the human experience. Programming elevates shared humanity by immersing visitors in encounters with diverse viewpoints around priceless collections, breathtaking spaces, unique performances, and new research.
The Folger's founders, Henry Clay and Emily Jordan Folger, established the institution in 1932 as a gift to the American people. After opening, the Folger steadily expanded its holdings to become a world-class research center on the early modern age in the West. Its public outreach programs, beginning in the library's early decades with exhibitions, lectures, and publications, have also grown over time. Today, they include Folger Theatre productions, early-music concerts by the Folger Consort, the O.B. Hardison Poetry series, the Folger Shakespeare Library Editions in their various forms, and a lively array of educational offerings for teachers, students, and families. Many of these programs have roots in the late 1960s and early 1970s and have developed into robust expressions of the Folger's mission. In 2020, the Folger also celebrated 50 years of the Folger Institute, which builds interdisciplinary communities of scholars for collections-based research and many types of associated programs.
Ongoing programming drives discovery and creates transformative experiences for students of all ages. The Folger is a leader in performance-based education, and more than two million teachers and students benefit from a broad variety of programs, exhibits, and events each year. The historic building, which was designed in 1932 by Paul Cret, is undergoing a multiyear, $72-million-dollar major renovation. With an expected completion in 2023, the renovation will expand public space, improve accessibility, and enhance engagement for all visitors. While access to the building is restricted, the Folger boasts a new digital platform called Miranda (named after the character from The Tempest), which holds its archive of collection items and images for scholars and enthusiasts. Reimagined public spaces will include a 12,000-square-foot pavilion and garden, fully accessible with elevators and restrooms, connecting the gardens with all sides of the building. Modern exhibition spaces will display both permanent and temporary collections, with a Great Hall as a centerpiece public exhibition gathering space, including a new café. New study rooms will be available for researchers to meet with curators and conservators, along with a flexible multi-purpose meeting space for seminars and collaborations. The new Education Laboratory will be a home to hands-on demonstrations, interactive workshops, and discussions for learners of all ages, which will enrich and support the education of Shakespeare's texts.
Located one block from the United States Capitol Building in Washington, DC, the Folger is governed by a 20-member board of governors. Director Michael Witmore leads a staff of 115 employees.
ABOUT YOU
The Folger Shakespeare Library seeks a Recruitment and Internship Manager, with at least five years of relevant experience, to join a fast paced and innovative nonprofit HR department during a period of steady expansion and intentional growth. The successful candidate will have strong attention to detail, an interest in the breadth of work at the Folger, and be invested in implementing measures of diversity, equity, inclusion, and accessibility into all recruitment activities. This is an excellent opportunity for individuals looking to gain experience in a busy non-profit human resources team, where puns are common, personal responsibility is prized, and customer service is a core value.
ABOUT THE ROLE
This role represents the organization to prospective employees and interns, and communicates the Folger Shakespeare Library's mission, vision, and goals. As a key member of the HR team, the Recruitment and Internship Manager leads the recruiting function with a focus on Diversity, Equity, Inclusion, and Accessibility. They collaborate closely with hiring managers on all aspects of the recruitment and selection process for staff and interns, including the onboarding and orientation process. This position will collaborate with the Director of HR and other key stakeholders to develop and manage a robust internship program. This position also helps to maintain the employment portions of the website and intranet site and helps plan and execute HR sponsored activities.
Talent Acquisition Strategy: Identifies and implements recruitment strategies that diversify our applicant pool and improve current process. Trains hiring managers and team leaders on best practices in recruitment and selection and ensures applicable laws, policies, and values are followed. Tracks and reports KPIs including time & cost per hire, tenure, turnover and more. Engages in tactics to ensure strong candidate and hiring manager experiences. Maintains professional and technical knowledge by attending educational workshops; reviewing professional publications; establishing personal networks; and participating in professional societies.
Recruitment: Writes, edits, and maintains position descriptions in accordance with Folger classification system. Recommends changes to managers and Director of HR, and initiates grade classification changes as needed. With the hiring manager, prepares ads. Places advertisements in various online posting locations and seeks out new resources for recruitment. Posts internal ads on bulletin boards. Maintains accuracy of postings and removes internal and external postings as needed. Manages online Applicant Tracking System and ensures hiring manger understands access and review process, providing training as needed. Ensures all requisitions and applications are kept up to date. Reviews applicants and supports hiring managers through review process. Sets and supports Interview needs, including scheduling, meeting space reservations, and candidate travel or lodging as needed. Conducts HR portion of interviews on most roles and provides feedback to hiring manager and Director of HR. Maintains notes and documentation for all aspects of the hiring process. Generates offer letters. Initiates and manages background security investigations for prospective employees.
New Hire Onboarding: Oversees and coordinates the onboarding process. Prepares organization and new hire for start date, including obtaining documentation from hiring managers, candidates and HR. Arranges orientation schedules. Sends appropriate orientation information to new hires in advance of their start date. Welcomes new hires, including conducting orientations and introducing new hires to the Folger staff via email. Ensures appropriate new hire paperwork is completed. Completes and sends New Hire Registry forms for all staff to the government of the District of Columbia. Maintains and responds to Office of Unemployment correspondence. With HR team, ensures employment records and paperwork are maintained and reviewed.
Human Resources Communication Systems : Communicates information to staff. Helps maintain Human Resources intranet pages. This includes updating changes to the staff handbook, staff anniversary pages, telephone directory, and uploading forms as they become available. Maintains the staff and internship recruitment pages on the Folger website, including creation of new profiles for incoming staff, maintenance of profiles for existing staff, and updates to the internship page. Orders office supplies as needed. Helps maintain the Folger HR bulletin boards and ensures that information is updated regularly.
Internship Program Management: With key stakeholders, develops a robust multi-level internship program (high school through post-graduate level). Responsible for management of program logistics, research into best practices, and developing relationships with target schools. Develops a program which includes educational programming, networking opportunities, and regular feedback. Works with development on funding opportunities. Completes special projects and other duties as needed.
Skills Requirements: Excellent organizational, interpersonal, and communication skills are required. Ability to prioritize multiple tasks, to work under pressure of deadlines, and to maintain strict confidentiality in all aspects of work. Must be able to work independently and as part of a team. Punctuality, reliability, meticulous attention to detail and extreme accuracy essential. Strong customer service skills are needed. A commitment to fostering a gentle and equitable workplace is needed. Demonstrated ability to take initiative to improve processes and procedures to ensure outstanding service to candidates, hiring managers, organization employees, and the HR team is needed.
Education Requirements: Bachelor of Arts or equivalent experience required.
Years of Experience: At least five years' general human resources or equivalent experience required, including recruitment, internship programs, partnership building, and onboarding. Must have experience writing job descriptions and job advertisements.
Reports To: Director of Human Resources
Direct Reports: No direct supervision; may oversee the work of interns or part time staff.
Working Conditions: 8:45 a.m. to 4:45 p.m., with an hour lunch break daily, Monday through Friday. Normal office environment.
Pandemic Response: Non-essential Folger staff are working remotely from the D.C. area, and all programming has been moved online. Starting at the end of Summer 2022, this position will maintain a hybrid approach with part time in-office work hours required.
NEXT STEPS
For consideration, interested candidates must submit a completed application, as well as a cover letter and resume. Your cover letter must address your experience and qualifications being sought. Electronic submissions are highly preferred. Interested individuals are encouraged to apply immediately. Please visit: The Folger Shakespeare Library more information about the organization. To obtain further details about this opportunity, contact Cassandra Bacon, Search Consultant at Nonprofit HR at cbacon@nonprofithr.com.
---

Our Commitment to Diversity, Equity, Inclusion & Belonging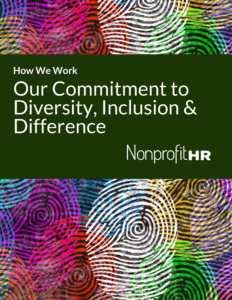 Nonprofit HR is committed to fostering and maintaining a work environment where diversity, equity, and inclusion (DEI) are fully integrated into everything we do for the benefit of our employees and the clients that we serve. To fully realize our goal, we prioritize our understanding of the complexities of DEI within our workforce to inform our approach to talent management. We believe that this guides how we do our work, advise our clients to operationalize DEI and position our content and educational opportunities help strengthen the talent management capacity of the social impact sector.
Continue reading our about our commitment at nonprofithr.com/deinow.
Read More
Apply for this position
Required*