Data and AMS Integration Specialist: National Council of Teachers of English
Remote
Full Time
Mid Level
Our Organization
Through collaboration and community, shared stories and shared experiences, NCTE supports teachers and their students in classrooms, on college campuses, and in online learning environments.
For more than 100 years, NCTE has worked with its members to offer journals, publications, and resources; to further the voices and expertise of educators as advocates for their students at the local and federal levels; and to share lesson ideas, research, and teaching strategies through its Annual Convention and other professional learning events.
Our Mission
The National Council of Teachers of English is devoted to improving the teaching and learning of English and the language arts at all levels of education. This mission statement was adopted in 1990: "The Council promotes the development of literacy, the use of language to construct personal and public worlds and to achieve full participation in society, through the learning and teaching of English and the related arts and sciences of language."
The Opportunity
With a goal of expanding NCTE's data-driven focus, the Database Administrator (DBA) will directly expand NCTE's data-driven insights and actions. This position will lead data governance, reporting, and analysis needs while also rapidly creating new insights through data for the organization. The DBA will be responsible for the life cycle of product knowledge, transactions, and demographics data in NCTE's Association Management Software (AMS), collaborating with NCTE's Director of IT, Senior Director of Operations, and others, when needed. This role will lead efforts to address and prevent errors that impact database transactions, the user experience related to the AMS, or reporting accuracy. The DBA will be expected to lead efforts in forming data governance standards in the current AMS (Aptify) and migrating those standards to any future AMS platforms. This role will serve as the central source for reporting membership, journals, and publication trends from database transactions, ensuring department leaders are able to make data-driven strategic decisions to help grow the organization and reach a broader audience of literacy educators.
SPECIFIC RESPONSIBILITIES INCLUDE:
Reporting & Data Governance
Create useful data sets in a growing variety of analytics, apps, algorithms for core business objectives

Imagine and create business rules including the creation, validation, and remediation of existing reports in the organization's AMS (Aptify) to ensure recurring reporting, lists, and future utilization contains data with fidelity

Ensure data privacy and security.

Coordinate with the Marcomm team to provide lists on schedule with external communications

Securely provide lists to a third-party when list rental requests are approved

Maintain weekly membership and journal subscriber trend reports, while forming a plan to shift to dashboard reporting

Provide monthly reports to key leaders, highlighting volume trends on membership, journals, and publications transactions, including influencing factors such as top sellers or campaign codes used

Collaborate with the Digital Marketing Manager to accelerate the use and depth of insight from Google Analytics as related to a variety of transactional trends observed through the AMS
Database Administration
Assist with the configuration and maintenance of NCTE's AMS (Aptify)

Create new products in Aptify, collaborating with the Finance team and product owners

Troubleshoot errors in the system to ensure that external programming support is providing a clear understanding of the issue, minimizing external programming costs

Provide management of SQL Server Agent, scheduling, and monitoring routine database jobs

Recommend, document, and communicate data definitions, data-related business rules, data trends, and testing methods

Thoroughly test any upgrades, migrations, new features, etc., with documented results and organized communication to staff and technical partners

Assist with design and interconnectivity of web-database applications

Coordinate data exchanges between NCTE and its partners through API integrations and data imports from various platforms

Provide training and procedural documentation to staff and key contractors to ensure consistent use of the database, according to data governance standards
ADDITIONAL EXPECTATIONS INCLUDE:
Thirst for discovering new data points that lead to positive change in serving teachers and students

Ability to create and implement data rules with a strong focus on enhancing the accuracy and access to data and reporting to inform strategic organizational programs and content

Capacity to reject status quo and create new data-driven opportunities

Commitment to continuous learning in the position through a variety of means

Strong collaboration with all staff including the Director of IT, Senior Director of Operations, Digital Marketing Manager, Director of Marketing and Membership, and other colleagues is essential

Clear communication with third-party technical partners, ensuring the effective use of IT budget

Embraces innovation, monitoring emerging technologies in the software industry, and recommending enhancements to the IT Project Manager and Director of Operations

Strong focus on enhancing the accuracy and access to data and reporting to inform strategic organizational programs and content

Working outside of traditional work hours to support project deliverables and database activities may occur. To ensure balance, NCTE encourages use of its flextime policy.

Domestic travel for in-person meetings may occur 2 to 4 times annually.
The Database Administrator will encompass the following qualifications:
3+ years' experience in systems analysis and/or support

Bachelor's degree from an accredited college/university in Data Science, Data Analytics, Technology, Computer Science or Engineering

Experience with Association Management Software platforms (Aptify preferred)

Basic SQL experience

Experience working with Crystal reports

Experience working with dashboard platforms like Power BI or Tableau

Proven ability to manage data and attendant complexities

Excellent, precise communication skills, both verbal and written

Self-reliance, good problem-solving skills, is results oriented

Ability to meet deadlines without sacrificing quality

Thrives in an entrepreneurial environment

Superior organization skills and ability to work under extreme pressure

Trade or professional association experience, especially with an education association, in addition to private sector experience preferred
Please note: this is a 100% remote position for US residents only.
---

Our Commitment to Diversity, Equity, Inclusion & Belonging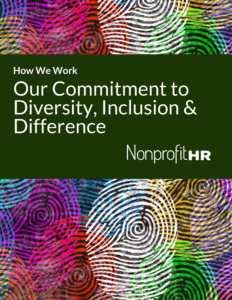 Nonprofit HR is committed to fostering and maintaining a work environment where diversity, equity, and inclusion (DEI) are fully integrated into everything we do for the benefit of our employees and the clients that we serve. To fully realize our goal, we prioritize our understanding of the complexities of DEI within our workforce to inform our approach to talent management. We believe that this guides how we do our work, advise our clients to operationalize DEI and position our content and educational opportunities help strengthen the talent management capacity of the social impact sector.
Continue reading our about our commitment at nonprofithr.com/deinow.
Read More
Apply for this position
Required*