Chief Executive Officer (Byte Back)
Remote
Full Time
Executive
​

​
POSITION ANNOUNCEMENT
Chief Executive Officer
"We have to do this. DC needs you and this."
These words from Barbara Altman fueled her collaboration with her friend Glenn Stein and led to Byte Back's opening in 1997.
Glenn started his career as a community organizer and fell into a role as "the guy in charge of computers." He realized that IT professionals just had to prove that they could fix a computer; they didn't need a degree. "I learned it by myself," he said, "and I thought, 'If I could do it, anybody could do it.'" Glenn shared his idea to open a computer and career training center in Honduras with Barbara over coffee in Adams Morgan. She convinced him that there was an opportunity to effect change right here in Washington, DC.
In the mid-1990s, welfare and affirmative action were being threatened and eliminated, there was a crack epidemic, and people in DC were struggling. At the same time, the tech industry was booming. "I didn't want to sit back and watch," Barbara says. "I wanted to do something." The organization's name sprung from the phrase "fight back."
Today, Byte Back provides a pathway of inclusive tech training that leads to living-wage careers. As a leader in digital inclusion since 1997, the nonprofit serves more than 500 adults per year in the Washington, DC area and Baltimore. Byte Back students are predominantly people of color, women, and unemployed or underemployed adults. In 2019, 57 Byte Back students found jobs after graduating, earning $23,463 more per year than they had before their Byte Back training. Byte Back's innovative approach and leaders have been featured locally and nationally by SXSW, TEDx, "The Root 100," Washington Business Journal, Voice of America, and NBC Washington.
Byte Back's important work continues – indeed, during this unprecedented period, its offerings are more critical than ever. Byte Back has exclusively retained Nonprofit HR to help us find the dynamic, mission-driven leader who will lead our work into the future. Byte Back's next CEO will be a highly visible presence within the greater Washington, DC metro area, Baltimore and nationally. The position requires big-picture vision, charisma, emotional intelligence, and strong financial, operational, and development experience. The CEO reports to the Board of Directors and is responsible for setting Byte Back's strategic direction, as well as providing day-to-day leadership. Key responsibilities include advocacy, public relations, fundraising, and community-focused program development. The CEO works collaboratively with the board and the Byte Back leadership team to develop and execute the organization's ambitious goals and facilitate relationships with key stakeholders, including but not limited to funders, community leaders, corporate partners, and the media.
The successful candidate will have a hunger for coordinating new strategic partnerships, a keen eye for recognizing new and diverse fundraising opportunities, and an understanding of marketing to ensure successful integration of the organization's communications into all aspects of its operations. The CEO must be a visionary leader who can guide and facilitate resource development, access to capital, and other initiatives to enhance and sustain the organization's financial position and identify mission-driven opportunities.
The ideal candidate is a dynamic leader who actively works to integrate diversity, equity, and inclusion into their work and who understands the connection between racial equity and digital equity. The CEO will be a results-oriented motivator with high standards for excellence. S/he/they will be a clear, consistent, and empathetic communicator and an engaging public speaker – someone who excels at relationship building, has entrepreneurial instincts, who naturally absorbs new information, and who has a contagious drive for excellence and accountability. The successful candidate will exude calm, competence, and credibility and develop effective solutions to business challenges.
Internally, the CEO must develop, lead, attract, inspire, retain, and manage a diverse, talented, and high-performing team, to ensure that the mission and core values of Byte Back are put into practice by holding everyone accountable for quantifiable, high-quality, timely, and cost-effective results. Team-building is key. Beyond guiding the staff in their respective areas of functional expertise, the successful candidate must foster and communicate a shared vision for the important work each employee must do, making the most of the staff's collective talent in support of organization-wide success.
The ideal candidate will possess a Bachelor's degree or a minimum of eight years of nonprofit leadership experience in roles focused on growth, fundraising, strategy, and planning. Byte Back's next CEO also will have experience in mission-related work, specifically in the areas of digital equity, workforce development, and/or the barriers faced by those that we are privileged to serve. Comprehensive understanding of and experience with community engagement, political acumen, sophisticated intersectional analysis, and demonstrated commitment to the values of diversity, inclusion, equity, and economic, racial and gender justice are also "must-haves." S/he/they will possess experience using data systems to improve program performance and outcomes. The position also requires demonstrated entrepreneurial ability to develop alliances and coordinate shared interests of all parties, with excellent communications and problem-solving skills designed to meet the challenges of the organization. A track record of successful change management, process improvement, strong team leadership and organizational performance improvement is essential for success in this role, along with demonstrated experience in organizational development and strategic planning.
For consideration, interested candidates should submit a cover letter and resume. Your cover letter must address your experience and the qualifications discussed above. Electronic submissions highly preferred. Interested individuals are encouraged to apply immediately. Please visit: www.byteback.org for more information about the organization. To obtain further details about this opportunity, contact Jami Armstrong, lead Search Consultant at Nonprofit HR directly at jarmstrong@nonprofithr.com.
---

Our Commitment to Diversity, Equity, Inclusion & Belonging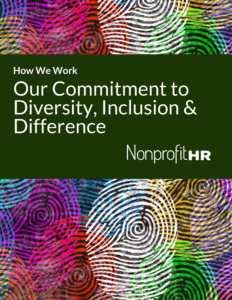 Nonprofit HR is committed to fostering and maintaining a work environment where diversity, equity, and inclusion (DEI) are fully integrated into everything we do for the benefit of our employees and the clients that we serve. To fully realize our goal, we prioritize our understanding of the complexities of DEI within our workforce to inform our approach to talent management. We believe that this guides how we do our work, advise our clients to operationalize DEI and position our content and educational opportunities help strengthen the talent management capacity of the social impact sector.
Continue reading our about our commitment at nonprofithr.com/deinow.
Read More
Apply for this position
Required*