Accounting Manager (Health Care for the Homeless)
Baltimore, MD
Full Time
Mid Level
Job Function: This is a "Hybrid" position: At least 50% of position will be remote. General telework location must be within reasonable driving distance of our Baltimore-based offices. 
Overview
Under the general supervision of the Director of Finance, the Accounting Manager is responsible for managing agency and capital project accounting in accordance with Generally Accepted Accounting Principles (GAAP).The position will establish and enforce proper accounting methods, policies and procedures. The individual will prepare and analyze financial statements and review the work of staff including payroll, accounts payable, cash receipts and bank reconciliations. This is a pivotal role that maintains the agency's fiscal health, and deepens the trust and confidence of others in the finance department.
Key Role Responsibilities
Format, prepare and analyze monthly financial statements and supporting documents; assemble department statements and assist directors in understanding and managing their budgets

Supervise accounting staff. Set and reinforce clear expectations, monitors outcomes, create a culture of open communication, and help team members solve complex problems through supervision and team meetings.

Develop, implement and maintain accounting standard operating procedures and workflows to increase departmental efficiency, maintain proper internal controls and optimize use of technology. Conduct internal trainings and audits to ensure shared understanding and accuracy.

Accurately maintain the general ledger, including the preparation and review of journal entries, ledger classification, account analysis, payroll assignment and reconciliations
Review fixed asset inventory and entries for compliance with capitalization guidelines

Prepare weekly cash flow projections and monitor daily cash balances

Assist with creation of annual operating and capital budgets

Collaborate with Grants Accounting Manager to ensure proper coding of grant expenditures and set up of grant account segments and tracking information within the accounting system

Review monthly development revenue with the Development Department ensuing reconciliation of Blackbaud and Accounting system records.
Lead financial audits and any tax-related submissions

Work collaboratively within the Finance Department to set up Agency budgets within the accounting system, prepare monthly financial reports, and maintain systems to ensure transparent financials
Key Agency Responsibilities
In addition to role responsibilities, every staff member has the following responsibilities as a part of their employment:

Models and reinforces the core values of dignity, authenticity, hope, justice, passion and balance

Actively participates in performance improvement and advocacy activities that support the mission

Protects clients' personal health information by maintaining compliance with HIPAA and other relevant health care-related IT security regulations

Performs other duties on an as-needed basis
Knowledge, Experience and Skills
Formal Education and Training
Bachelor's Degree with a concentration in accounting; advanced degree or CPA preferred
Experience
Five years of public/private accounting required
Fund accounting and A-133/Single Audit experience preferred

One year of supervisory experience required
Skills
Able to build a team, motivate staff and delegate tasks using a strengths-based approach

Advanced skills in MS Office (Excel), accounting software and databases

High attention to detail and accuracy

Ability to manipulate large amount of data and interpret analyses

Flexible approach, works within cross-disciplinary teams in a collaborative style
Utilizes effective methods for managing workflow and pacing work

Engages with difficult issues in order to solve them

Energetic, adaptive and self-reflective learner

Systems-thinker, sets clear goals, uses action plans and knows how to prioritize

Builds rapport and relationships; has strong interpersonal and communication skills
Ability to work in sensitive situations and maintain confidentiality
Working Conditions and Physical Requirements
Activity

Some

Freq

Work Position %

Lift

0-50 lbs.

X

Sitting

85%

Carry

0-50 lbs.

X

Walking

10%

Push

0-50 lbs.

X

Standing

5%

Pull

0-50 lbs.

X

Stoop, Kneel

N/A

Crawl

N/A

Climb

N/A

Balance

N/A
Physical Requirements

Hazards

Mark with an X if this is a physical requirement for this job.

Mark with an X if this is a potential hazard for this job.

X

Manual dexterity (eye/hand coordination)

Use of Latex Gloves

Perform shift work

Exposure to toxic/caustic/chemicals/detergents

Maneuver weight of patients

Exposure to moving mechanical parts

Hear alarms/telephone/tape recorder

Exposure to dust/fumes

Reach above shoulder

Exposure to potential electrical shock

X

Repetitive arm/hand movements

Exposure to x ray/electromagnetic energy

X

Finger Dexterity

Exposure to high pitched noises

Color Vision

Exposure to communicable diseases*

Acuity – far

Blood born pathogen exposure

Acuity – near

Gaseous risk exposure

Depth perception

On Call
*May be exposed to infectious disease with little likelihood of harm if established procedures are followed
Health Care for the Homeless is an equal opportunity employer and is committed to racial equity and inclusion. We make a particular effort to recruit and promote Black, Indigenous and People of Color (BIPOC) for open positions. BIPOC, LGBTQIA+ individuals, people with disabilities, and people with other marginalized identities are encouraged to apply.
---

Our Commitment to Diversity, Equity, Inclusion & Belonging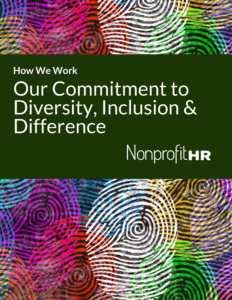 Nonprofit HR is committed to fostering and maintaining a work environment where diversity, equity, and inclusion (DEI) are fully integrated into everything we do for the benefit of our employees and the clients that we serve. To fully realize our goal, we prioritize our understanding of the complexities of DEI within our workforce to inform our approach to talent management. We believe that this guides how we do our work, advise our clients to operationalize DEI and position our content and educational opportunities help strengthen the talent management capacity of the social impact sector.
Continue reading our about our commitment at nonprofithr.com/deinow.
Read More
Apply for this position
Required*