Data Science Education Impact Fellow (Federation of American Scientists)
Washington, DC
Full Time
Mid Level
ABOUT THE POSITION
The FAS Day One Talent Hub is seeking a fellow for a 1 year term (with potential opportunity to extend) to join the Institute of Education Sciences (IES) within the Department of Education. The Fellow will assist IES in its efforts to broaden student and educator opportunities in data science, build the evidence base for the subject, collaborate with other offices and Federal agencies to coordinate efforts for data science education, and increase awareness and engagement with IES' efforts in the area of data science education.
WHAT YOU'LL BE DOING
Data science's role and importance in the modern world is expanding. As a research and statistical agency, IES is committed to promoting data science education and to establishing a sustainable pipeline of data-savvy talent to the federal government and beyond. Many projects will encompass stakeholder engagement and content expertise concurrently.
Support IES leadership in identifying new, innovative ways to expand the agency's work in data science education, and manage the design and implementation of these initiatives;

Organize major events to increase participation in data science education and support innovation from states, districts, and schools;

Identify opportunities for collaboration with other federal agencies to increase IES's visibility and potential to impact the field of data science;

Establish and maintain networks to help IES (a) understand the issues faced in the field; (b) gather better data about these issues; and (c) support the creation of test beds for innovation and reform;

Collaborate with states, districts, and schools to establish their own networks to engage in research that will help these entities, as well as IES, understand the issues faced in the field; gather better data about these issues; and support the creation of test beds for innovations and reforms;

Collect, analyze, and report on data that describe current levels of awareness, capacity, knowledge and need at the elementary, middle, and high school levels; and;

Inform the development of policies and funding opportunities to support data science education.
YOUR BACKGROUND AND ABILITIES
You excel in building relationships with other stakeholders both in and out of government.

You possess either prior K-12 classroom experience or content knowledge in data science education.

You possess a willingness to learn new processes and an enthusiasm to work within a government environment.
SALARY
This fellowship will provide a salary that accounts for the cost of benefits for the entirety of the fellowship duration at an annual rate ranging from $130,000 - $145,000 per year, commensurate with experience and education.
HOW TO APPLY
To apply, please submit your interest here. We strongly encourage candidates from all backgrounds to apply. Early submission will ensure your application receives full consideration.
ABOUT IMPACT FELLOWSHIPS
The FAS Impact Fellowship is a selective fellowship program that supports the development and placement of emerging scientific and technical talent within high-impact roles across the federal government. From education to clean energy, immigration, wildfire resilience, national security, and fair housing, Impact Fellows are serving across a variety of federal agencies in roles that augment existing government teams as they confront some of the greatest scientific and social challenges of our time.
---

Our Commitment to Diversity, Equity, Inclusion & Belonging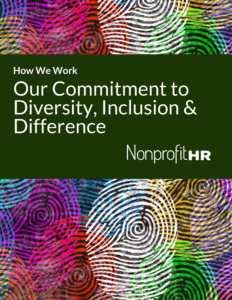 Nonprofit HR is committed to fostering and maintaining a work environment where diversity, equity, and inclusion (DEI) are fully integrated into everything we do for the benefit of our employees and the clients that we serve. To fully realize our goal, we prioritize our understanding of the complexities of DEI within our workforce to inform our approach to talent management. We believe that this guides how we do our work, advise our clients to operationalize DEI and position our content and educational opportunities help strengthen the talent management capacity of the social impact sector.
Continue reading our about our commitment at nonprofithr.com/deinow.
Read More
Apply for this position
Required*