Chief Executive Officer (Planned Parenthood of Northern New England)
Colchester, VT
Full Time
Executive
POSITION ANNOUNCEMENT
Chief Executive Officer
Organization: Planned Parenthood of Northern New England
Position: Chief Executive Officer
Reports to: Board of Directors
Location: Colchester VT, in the Burlington VT area
Alternative locations could include Concord, NH or Portland ME
ABOUT THE ORGANIZATION
Planned Parenthood of Northern New England (PPNNE) is the largest reproductive health care provider and policy advocate in northern New England with 21 health centers across Maine, New Hampshire and Vermont. PPNNE is a 501(c)(3) organization with a $31 million operating budget and 250 committed staff dedicated to providing care to 45,000 patients annually. PPNNE provides, promotes, and protects access to reproductive health care and sexuality education so that all people, regardless of gender, sexual orientation, age, race, income or insurance status can make voluntary choices about their reproductive and sexual health.
ABOUT THE CEO ROLE
As PPNNE continues to respond to a dynamic and changing healthcare environment, a search is underway for a visionary and transformational Chief Executive Officer (CEO). Reporting to the Board of Directors, the CEO provides strategic direction and leadership to execute the organization's mission and vision, represents and speaks for the organization and its work, and oversees the business operations of PPNNE.
Dynamic internal and external factors make for an exciting role during a pivotal time, offering the opportunity for major impact and meaningful contribution to the short and long-term success of the organization. The CEO will lead the organization through a significant organizational transition while bringing the vision of equity to the forefront. Given the changing healthcare and political environment, PPNNE seeks a CEO who is experienced in high-level management of organizational change. Among the major operations changes are the recent unionization of part of the workforce, the creation of a centralized health network with fourteen other Planned Parenthood affiliates, and a rapidly changing landscape in sexual and reproductive healthcare and access to legal abortion. The CEO will provide strategic direction and guidance in collaboration with the senior leadership team and the board of directors to successfully respond to and leverage these changes to advance the mission of PPNNE.
The CEO oversees the work and board management for three 501 (c)(4) organizations (Action Funds) in Maine, New Hampshire and Vermont. The Action Funds serve as leaders in their region directing public policy; educating voters, elected leaders and candidates; driving campaign and electoral activity and building a movement to advance reproductive rights and freedoms.
Additional responsibilities of the CEO include effectively representing and promoting the organization as the trusted source for healthcare and information; overseeing the organization's fiscal operations and fundraising strategies; supporting the board in its governance role; and developing and maintaining relationships and partnerships with stakeholders, policymakers, organizations, and the public. This role does require some travel, primarily between Burlington VT, Concord NH, Portland ME and intermittent travel to national meetings.
ABOUT THE IDEAL CANDIDATE
The successful candidate will ideally have a minimum of ten years in executive-level management of which at least five years should be within a complex healthcare system, healthcare related organization, or an organization with a focus on advocacy.
While no one person will embody every characteristic, the ideal candidate will offer many of these qualifications and qualities:
The candidate must have a deep commitment to the mission and the values of Planned Parenthood.

The incoming CEO must have experience in managing change in a complex organization.

The incoming leader will possess a collaborative leadership approach that engages the input and knowledge of PPNNE's highly competent senior leadership team and staff, its board and other stakeholders.

Strong candidates will possess the skill to inspire, motivate and develop staff and will be experienced in leading and managing a unionized workforce and promoting a healthy organizational culture.

The ideal candidate must have a successful track record in leading, building and developing a diverse workforce, operationalizing equity, and creating a culture of

inclusion and mutual respect.

The successful candidate will be experienced in strategic planning, financial and resource management, and board governance.

The CEO must have strong written and verbal communication skills, and exceptional interpersonal skills.

A strong candidate will have a solid understanding of how advocacy, health policy and the political landscape affect the organization and its ability to advance the mission.

The ideal candidate must have an exceptional leadership presence and the ability to address and to build relationships with diverse communities. The CEO will be required to represent PPNNE as a dynamic leader to a multitude of audiences including the public sector, health care industry, the media and community at

large.
OUR COMMITMENT TO DIVERSITY, EQUITY & INCLUSION
PPNNE is committed to creating a diverse work environment and is proud to be an equal opportunity employer. Our employment practices reflect our core values and guide us in our commitment to dismantling structural racism and rebuilding the systems that serve our communities in ways that center racial and other forms of equity. All qualified applicants will receive consideration for employment without regard to race, color, religion, gender, gender identity or expression, sexual orientation, national origin, genetics, disability, age, or veteran status. Learn more about our PPNNE Anti-Racism Commitments.
HOW TO APPLY
PPNNE has exclusively retained Impact Search Advisors by Nonprofit HR to assist in the recruitment efforts for its next CEO. For consideration, interested candidates must submit a completed application, as well as a cover letter and resume as soon as possible. Your cover letter must address your experience and qualifications as aligned with the needs of the organization. Please visit: ppnne.org for more information about PPNNE. To obtain further details about this opportunity, contact Danisha Martin, Senior Search Consultant at Nonprofit HR.
---

Our Commitment to Diversity, Equity, Inclusion & Belonging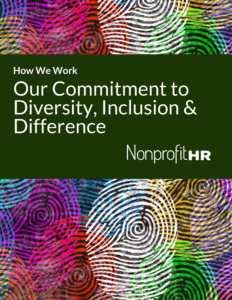 Nonprofit HR is committed to fostering and maintaining a work environment where diversity, equity, and inclusion (DEI) are fully integrated into everything we do for the benefit of our employees and the clients that we serve. To fully realize our goal, we prioritize our understanding of the complexities of DEI within our workforce to inform our approach to talent management. We believe that this guides how we do our work, advise our clients to operationalize DEI and position our content and educational opportunities help strengthen the talent management capacity of the social impact sector.
Continue reading our about our commitment at nonprofithr.com/deinow.
Read More
Apply for this position
Required*