Energy and Climate Policy Analyst
Remote
Full Time
Mid Level
ENERGY AND CLIMATE POLICY ANALYST
About TURN:
The Utility Reform Network (TURN) is a California nonprofit organization that promotes racial and economic equity advancement through regulatory and legislative work to achieve affordable, clean, and safe energy that meets the needs of today and beyond.  At several levels of government, either directly or through coalitions, TURN advocates for sustainable energy and climate policies at affordable rates, especially for low-income households, communities of color, immigrants, and rural communities.  A respected consumer voice for over 40 years in the California State Legislature and the California Public Utility Commission, and other forums, TURN is successful through its combined talent of attorneys, policy analysts, economists, and community organizing professionals. 
Position:
TURN seeks a policy analyst committed to racial and economic justice to join TURN's Energy and Climate Team of high-impact regulatory policy advocates.  A strong applicant communicates effectively (written and verbal) with all levels throughout the organization and the public is committed to economic and racial justice, is a proactive and creative problem solver, with a technical background in energy and economics/ finance, including strong quantitative skills, and a commitment to holding energy providers accountable, advancing clean energy policy and promoting safe utility service at affordable rates. This is a full-time exempt position that may require occasional after-business hours work to meet legislative or regulatory deadlines.
Top Reasons to Join TURN:
100% employer-paid premium for employee health, dental, and vision, and additional benefits for all members of the employee family.

Generous annual leave and retirement contributions.

Competitive salary for nonprofit organizations, commensurate with experience (starting at $100,000).

TURN qualifies as a nonprofit employer for the Federal Public Service Loan Forgiveness Program.
Top-notch, dedicated, racially diverse team.

Opportunity to influence California's fast-moving energy and climate change policies in a cutting-edge state.

Work with multiple disciplines of TURN professionals and external experts.
Key Job Duties:  Examples of projects include:
Analyze utility cost forecasts for utility operations and capital investments.
Evaluate utility marginal cost analyses for purposes of allocating costs between customer classes.

Perform bill impact analyses of alternative rate designs.

Evaluate consumer impacts of wholesale energy market designs.

Develop policies and methods for evaluating the costs and benefits of distributed energy resource investments.

Evaluate the role of the regulated utility in competitive markets such as solar energy and electric vehicles.
Perform avoided cost analyses and cost-effectiveness analyses of alternative utility programs.

Analyze utility risk assessment and risk mitigation models for purposes of recommending cost-effective programs to promote safe utility operation.

Review utility testimony and work papers in CPUC cases and draft information requests to utilities.

Prepare written testimony on behalf of TURN in CPUC cases and defend the testimony in response to cross-examination at CPUC evidentiary hearings.

Draft summaries and reports for TURN's website, online alerts, newsletters, and fundraising and program-related materials.
Analyze and recommend TURN's position on relevant legislative proposals.
Key Attributes of a Winning Candidate:
Excellent Communicator: Communicate effectively (written and verbal) with all levels throughout the organization and the public.

Socially Aware: Commitment to economic and racial justice.

Technical Familiarity with one or more of the following: (1) cost-effectiveness, production cost, or other types of simulation modeling, (2) economic analysis of utility investments, (3) regulatory accounting practices, (4) Tax law, (5) marginal cost methodologies. The candidate must have a strong command of using Excel-based models.
Active Teamwork: Demonstrates problem-solving, conflict resolution, and positive communication through teamwork and through working independently.
Requirements:
Education: Graduate degree in economics, energy resources, public policy, engineering, or related field.

Experience: Demonstrated understanding of the regulated natural gas and electric industry.
Vaccination Policy:
All TURN employees are required to obtain COVID-19 vaccinations in accordance with CDC recommendation guidelines and must provide proof of vaccination unless a reasonable accommodation is approved by the TURN COVID Vaccination Committee.
Step up to your potential to change the world. Write your story and apply today!
Join the TURN team whose cutting-edge policy advocacy has a major impact on reducing carbon emissions and protecting the affordability of monthly energy bills for millions of California residents and establishes innovative policies that are often adopted by other states and nationally.
Application Process:
To Apply:  Please use the following to submit applications of interest
https://nonprofithr.applytojob.com/apply/WoQimfhDBp/Energy-And-Climate-Policy-Analyst
TURN actively encourages applications from people who would add to our staff diversity, as well as to the diversity of the energy policy field.  This includes applications from people who self-identify as Black, Indigenous, Latino/a, Asian, non-gender conforming, LGBTQ and other underrepresented communities.
---

Our Commitment to Diversity, Equity, Inclusion & Belonging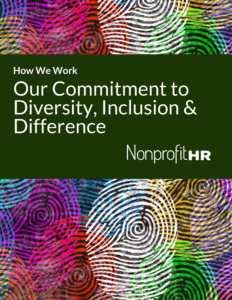 Nonprofit HR is committed to fostering and maintaining a work environment where diversity, equity, and inclusion (DEI) are fully integrated into everything we do for the benefit of our employees and the clients that we serve. To fully realize our goal, we prioritize our understanding of the complexities of DEI within our workforce to inform our approach to talent management. We believe that this guides how we do our work, advise our clients to operationalize DEI and position our content and educational opportunities help strengthen the talent management capacity of the social impact sector.
Continue reading our about our commitment at nonprofithr.com/deinow.
Apply for this position
Required*