Share the Model Director
Rooted in San Francisco's Mission District, MEDA is advancing a national equity movement by building Latino prosperity, community ownership and civic power.
Since 1973, Mission Economic Development Association (MEDA) has worked to improve economic and social conditions for San Francisco's low- and moderate-income residents, primarily within the Latino community. Building on its 46-year history, MEDA is advancing innovative approaches to Latino wealth, place, and power building. MEDA's mission is to strengthen low- and moderate-income Latino families by promoting economic equity and social justice through asset building and community development.
MEDA employs an ecosystem approach to economic development that includes direct service programs that serve over 8,000 individuals each year through integrated Financial Capability, Free Tax & ITIN preparation, Business Development, Housing Opportunities, and Workforce Development. This also includes community real estate development and preservation, lending through our Fondo Adelante Community Development Financial Institution (CDFI), organizing and advocacy including our 501c4, and collective impact as the backbone organization of the cradle to career Mission Promise Neighborhood network. MEDA shares its model locally, regionally, and nationally; and, MEDA is currently a funder across California. The creation of this position marks a formal pivot to formalizing MEDA's regional and national leadership, influence, and coalition.
As MEDA continues to experience significant growth and build upon its unique model, a search is underway for an experienced visionary to further the continued growth and enhancement of low-income and immigrant communities, and communities of color. Nonprofit HR has been exclusively retained to assist in the recruitment efforts for the Share the Model Director search. Reporting to the CEO, the Share the Model Director will be a leader with the ability to advocate for MEDA's priorities across various stakeholder communities through a clear workplan that guides and communicates MEDA's resource development initiatives. MEDA shares its models in the interest of equitable resource sharing, best practice exchange, and thought leadership to advance the community development field, with a focus on Latino wealth and power building. This role is critical to MEDA as it will be the point person for community organizations to start the work with government agencies and to gain funding to further the projects through providing technical assistance. This thoughtful and important work with take place in the Mission District, locally all over the bay area, regionally, and nationally.
The Share the Model Director is a strategic thinker with the ability to skillfully navigate the organization through community engagement and community sustainability. This role will also be integral in maintaining the confidence of the funders around deliverables in a fast-paced collaborative, visionary focused- hit the road running culture. This includes building relationships with city officials, connecting with other communities that are in place, and effectively communicating and working with the organizations ¡Viva! integrated services training and technical assistance model. With a high level of project management and relationship management this person will be key to MEDA's capacity to navigate the political arena and nurture those relationships.
The selected candidate must understand the Latino community, speak Spanish, and have a strong background in real-estate as it relates to affordable housing and how funds are sourced and secured. The Share the Model Director will ideally at least 7 years' experience and a strong understanding of service integration and Community Development Financial Institutions (CDFI). They must be able to guide people through affordable housing development with a service integration approach and an entrepreneurial spirit that will ultimately secure contracts and grow the program. Based on rapid growth MEDA will count on the Share the Model Director to sure up the finances to make sure they maintain strong relationships with the city. Equally important the ideal candidate will have an intrinsic passion for MEDA's, Mission, Vision, and work.
For consideration, interested candidates must submit both a cover letter and resume. Your cover letter must address your experience and qualifications being sought. Send materials to: jarmstrong@nonprofithr.com
---

How We Work: Nonprofit HR's Commitment to Diversity, Inclusion & Difference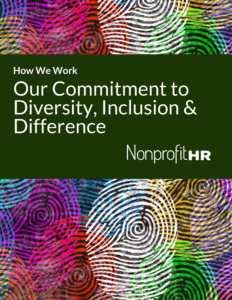 It is a high priority for us to foster and maintain an environment where diversity and inclusion are valued and realized to the benefit of you and the clients that we serve.
We believe strongly in treating everyone fairly and value the full diversity of our colleagues, clients, partners and vendors. Inclusion is how we live our commitment to fairness and diversity. It shapes how we honor the perspectives, abilities and identities of our colleagues; how we listen to, engage and respond to our clients; and how we connect to and appreciate each other and those we serve. We define diversity as differences that influence and affect our firm, our workplace culture, and the communities and clients we engage in the following areas: race, color, ethnicity, national origin, socioeconomic status, pay and benefits, ability, military service, age, faith, gender, sexual identity, personal appearance, pregnancy, and political views. Continue reading our about our commitment to diversity, equity and inclusion at nonprofithr.com/deinow.