Impact Fellow, Department of Education: Data Science (Federation of American Scientist)
Washington, DC
Full Time
Experienced
The Day One Project is working to develop and implement innovative and actionable ideas in science and technology policy that have a significant impact on the nation. The Day One Talent Hub is seeking a fellow for a one-year term (with potential opportunity to extend) to join a data analytics team within the Office of the Under Secretary at the Department of Education. The Fellow will have the unique opportunity to leverage educational data to analyze policy, build tools, and collaborate on solutions that have the potential to impact and better serve the 13 million students that receive over $120 billion dollars in federal aid from the Department of Education to help pay for college or career and technical education programs each year.
Responsibilities
The Education Data Science Impact Fellow will enter an assignment at the Department of Education to help lead a data science team reporting to the Deputy Under Secretary for Education. This team will leverage the use of the Department's Financial Student Aid administrative data to better inform policy development in real-time and conduct analysis to improve the impact of federal aid investments on post-secondary education.
Specific responsibilities for this Education Data Science Impact Fellow include:
Project Management: Collaborating with teammates and stakeholders in an agile, reproducible and organized manner to drive novel policy insights and outcomes as a key technical liaison.

Study Design and Data Analysis: Consulting with stakeholders and customers to identify the appropriate data, methodological approach, and design. This team will conduct analyses to explore/group data, test hypotheses, predict outcomes, estimate causal impacts of policy, and inform decisions.

Data Wrangling: Lead and work with teams to develop data products and definitions. Use appropriate analytic and statistical software to programmatically prepare data for analysis and clean imperfect data.

Statistical / Machine Learning Data Analysis: Conducts analyses using software and/or programming languages such as R, Python, SAS or Stata to explore/group data, test hypotheses, predict outcomes, estimate causal impacts of policy, and inform decisions. Derive meaning from big data (i.e., datasets that may be large, disparate, unstructured, and/or complex).

Communication: Translate complex concepts, findings, and limitations into concise, plain language in briefs and visualizations. Closely tie findings and conclusions into the agency mission, original problem statement and team objectives. Research and design presentations and interpretations of analytical outputs tailored to specific audiences including the use of interactivity and narrative storytelling where appropriate.
Experience and Qualifications
The Day One team and its agency partners at the Department of Education is seeking an entrepreneurial, experienced, and resourceful individual who brings subject matter expertise to the role of Data Scientist on financial and lending analysis and has the ability to thrive in a dynamic team environment. This individual must be passionate about education innovation.
Strong candidates should have some of the following experience and qualifications:
Experience as a strong individual contributor on a data science project including project definition, project execution, team management, and reporting;

Background in program evaluation, applied statistics or econometrics, and in building novel data models and visualizations with large administrative datasets and experience with inferential and machine learning algorithmic approaches;

Subject matter expertise and experience using data related to higher education—especially financial aid—policy and/or loan performance analysis;

Experience automating collection of data from varying sources, formats, and quality and prepare them for analysis and applying a variety of analytical approaches to solve mission focused policy, methodologies, and/or administrative problems in a fast-paced environment;

Ability to clearly and concisely present the findings of analytical products to policymakers and non-technical audiences;

Experience conducting analysis in contemporary programming or statistical software suite such as: SQL, Python, SAS, STATA, R, Tableau, and/or PowerBI;

Experience or interest in higher education policy and equitable educational outcomes;

Experience managing projects or products, especially using agile methodologies, as well as in building partnerships and collaborating across networks, working in an entrepreneurial culture, navigating ambiguous environments and leading teams;

A minimum of 4-6 years of professional experience preferable;

Commitment to public service, diversity, equity and inclusion and pursuing it within the mission of the Day One Project and Department of Education;

Must be a U.S. citizen.
Education requirement: Master's degree or Ph.D. preferred, ideally in a quantitative social science discipline, public policy, education, computer science, or applied statistics.
This fellowship will provide salary and benefits for the entirety of the fellowship duration at an annual rate ranging from $115,000 – $130,000 per year, commensurate with experience and education.
The FAS/Day One Project is looking to fill this position quickly and will be reviewing applications on a rolling basis. Applications will be accepted until the position is filled. Early submission will ensure your application receives full consideration.
The Herbert Scoville Jr. Peace Fellowship
The Herbert Scoville Jr. Peace Fellowship pays a salary for recent college and graduate school alumni to work with NGOs in Washington, DC, including FAS, on international peace and security issues for six to nine months. For further information, please visit www.scoville.org
---

Our Commitment to Diversity, Equity, Inclusion & Belonging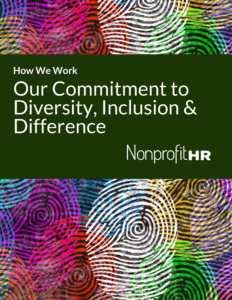 Nonprofit HR is committed to fostering and maintaining a work environment where diversity, equity, and inclusion (DEI) are fully integrated into everything we do for the benefit of our employees and the clients that we serve. To fully realize our goal, we prioritize our understanding of the complexities of DEI within our workforce to inform our approach to talent management. We believe that this guides how we do our work, advise our clients to operationalize DEI and position our content and educational opportunities help strengthen the talent management capacity of the social impact sector.
Continue reading our about our commitment at nonprofithr.com/deinow.
Apply for this position
Required*