Integrated Marketing Manager- (National 4-H Council)
Washington, DC
Full Time
Marketing and Brand
Manager/Supervisor
Mission
Our mission: increase investment and participation in 4‑H programs so we can support the next generation of true young leaders. National 4‑H Council (Council) is committed to providing leadership and resources so that 4‑H programs are available to youth across the US. Our executive leadership team and Board of Trustees are dedicated to the belief that helping kids achieve their boldest dreams empowers not only them but also our communities to thrive today, tomorrow, and beyond. Council supports national and state 4‑H programs with a focus on fundraising, brand management, communications, and legal and fiduciary services. Council also oversees the National 4‑H Conference Center, and the National 4‑H Supply Service, the authorized agent for items bearing the 4‑H Name and Emblem.
Position Summary
4-H seeks an experienced and well-rounded marketer to help grow its differing program areas including STEM, healthy living civic engagement and agriculture. The role will involve top-to-bottom ownership of a portfolio partner marketing relationships, working with some of the world's biggest companies by creative marketing approaches to address their opportunities. In this dynamic role, the ideal candidate will be a skilled marketing strategist, project and product manager, storyteller, messaging specialist, partner (client), relationship manager, budget steward and more.
The ideal candidate has a knack for strategy and big-picture thinking, yet enjoys digging into all aspects of marketing execution. Additionally, he or she is collaborative, skilled in managing high-value relationships, and has the experience to drive projects from conception to completion.
Responsibilities
Lead 4-H Tech Changemakers
· Set the integrated marketing strategy in partnership with fundraising and marketing lead to grow, expand, and evolve this already-successful initiative that is a key driver of revenue and brand awareness for 4-H STEM.
· Develop and manage the cross-functional execution of a comprehensive marketing work plan for 4-H Tech Changemakers.
· Work with the resource development team to deliver against partner expectations, drive renewals and foster a pipeline of new prospects.
· Manage and execute workstreams including but not limited to youth storytelling, public opinion research, executive visibility, partner and brand visibility, and local programmatic marketing support.
· Work with 4-H's in-house creative team and agency partners to script, shoot, produce, and edit compelling video stories.
· Write impact stories, talking points, event scripts, blog posts and long-form pieces that
showcase the impact of 4-H's work and the power of the young people we serve.
· Train and manage a youth voice specialist in support of successful delivery of the 4-H Tech Changemakers program and other STEM partnerships.
Day to Day Marketing Responsibilities
· Develop strong relationships with marketing counterparts at partner organizations and lead day-to-day execution of the marketing plan.
· Partner with Marketing Subject Matter Experts colleagues to develop and execute creative content, digital, or earned media campaigns as necessary.
· Collaborate with the VP of Integrated Marketing and other team members to develop messaging that demonstrates our value proposition across multiple audiences and STEM disciplines (e.g. computer science, engineering, ag science, environmental science).
Qualifications
· Bachelor's degree or higher, with at least 10 years of relevant marketing experience, preferably including agency or in-house experience.
· Proven experience planning and executing large-scale marketing initiatives from conception to completion.
· Experience leading large cross-functional teams on major projects or initiatives.
· Experience successfully managing and mentoring direct reports.
· Exceptionally strong written and verbal communications skills.
· Proven track record of developing integrated marketing campaigns with strategies and tactics that are connected to tangible metrics and outcomes.
· Experience managing agency partners and projects on-time and on-budget.
· Track record of using data and analytics to improve results.
· Ability to communicate effectively with multiple high-profile donors and board members.
· Strong organizational skills, with the ability to manage multiple priorities and deadlines.
· Ability to think creatively and problem-solve in a fast-paced work environment.
· Experience co-creating issue-focused campaigns with partners/clients.
· Demonstrated success in leading new business opportunities.
Travel Requirements: May require travel for up to 10% of the time (local, regional, national) by air, car, and, or rail.
Position typically has the following Career Ladder:
· Senior Manager
· Director
· Senior Director
ADA Requirements: This position operates in a hotel and conference services environment. The physical demands described here are representative of those that must be met by an Associate to perform the essential functions of the position. Reasonable accommodations may be made to enable individuals with disabilities to perform the essential functions.
· Role routinely uses standard office equipment such as computers, telephones, photocopiers, filing cabinets and fax machines.
· Mostly a sedentary role; however, some filing required.
· Requires the ability to lift files, open filing cabinets, and bend or stand as necessary.
· Basic math skills needed to calculate formulas, budgets, and so forth.
· Must be able to lift 10 to 20 pounds.
Competencies
Competency Level (Beginning, Proficient, Advanced, Mastery)
Communications Advanced
Critical Thinking Advanced
Initiative & Innovation Advanced
Collaboration & Teamwork Advanced
Customer Orientation Advanced
Business Mindedness Advanced
Spirit of Diversity & Inclusion Advanced
Disclaimer
This position description indicates, in general, the nature and levels of work, knowledge, skills, abilities, and other essential functions (as covered under the Americans with Disabilities Act) expected of an incumbent. It is not designed to include or contain a comprehensive listing of activities, duties or responsibilities required. An incumbent may be asked to perform other tasks as needed.
---

Our Commitment to Diversity, Equity, Inclusion & Belonging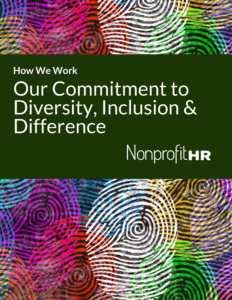 Nonprofit HR is committed to fostering and maintaining a work environment where diversity, equity, and inclusion (DEI) are fully integrated into everything we do for the benefit of our employees and the clients that we serve. To fully realize our goal, we prioritize our understanding of the complexities of DEI within our workforce to inform our approach to talent management. We believe that this guides how we do our work, advise our clients to operationalize DEI and position our content and educational opportunities help strengthen the talent management capacity of the social impact sector.
Continue reading our about our commitment at nonprofithr.com/deinow.
Apply for this position
Required*