ASE, is short for the National Institute for Automotive Service Excellence. Established in 1972 as a non-profit organization, the National Institute for Automotive Service Excellence (ASE) is a driving force in the transportation industry. As an independent third party, ASE upholds and promotes high standards of service and repair through the assessment, certification and credentialing of current and future industry professionals, and the prestigious ASE Blue Seal logo identifies professionals who possess the essential knowledge and skills to perform with excellence. Today, there are approximately 250,000 ASE Certified professionals at work in dealerships, independent shops, collision repair shops, auto parts stores, fleets, schools and colleges throughout the country. For more information about ASE, visit www.ase.com.
To increase ASE's capacity to respond to the continually evolving technological advances of the automotive industry, Nonprofit HR has been exclusively retained to assist in the recruitment efforts for a Chief Technology Officer (CTO). Reporting to the President & CEO, the CTO is a member of the executive leadership team joining a 40+ member staff. This person will leverage their extensive knowledge of both technology and business to provide innovative and proven solutions and to develop and execute our institute-wide information technology strategy. We're looking for a proven leader, change agent and innovator who will maintain the direction, vision, and strategy for our technology team while expertly orchestrating major, complex transformation and development projects. The CTO will insure all projects are designed to meet the business needs of ASE, determine use of appropriate and integrated technology, evaluate current technology and IT infrastructure, assess needed technical skills and abilities to design, develop and complete projects within budget and time constraints. Set staffing/consulting levels within to meet ASE's commitments, and insure ASE's customers receive outstanding service.
The CTO must have the ability to enable and drive strategic technology decisions, as well as the future direction of the business, approaching it from a deep understanding of technology solutions and their contribution to driving value through revenue growth and organizational efficiency. S/he/they will build upon and deliver a technology strategy aligned with the institute's mission, vision and objectives as well as hands-on assistance with the work. It is the CTO's responsibility to ensure that the organization's processes and policies related to IT Infrastructure, data integration, security and applications development are defined, adhered to and efficient.
Internally, the CTO must develop, lead, attract, inspire, retain, and manage a small, but diverse, talented, and high-performing team, to ensure that the mission and core values of ASE are put into practice by holding everyone accountable for quantifiable high-quality, timely, and cost-effective results. Team building is key. Beyond guiding the staff in their respective areas of functional expertise, the executive must foster a shared vision for the important work it must do—making the most of the staff's collective talent in support of organization-wide success. In an environment that is collegial and where talent and culture are critical, it will also be the CTO's responsibility to establish credibility throughout the organization as an effective developer and implementor of solutions to business challenges.
The ideal candidate will possess, at a minimum 10 years of IT leadership experience, and a background that reflects the ability to thrive in a forward paced and constantly evolving organization. This person will have a track record of delivering successful technology solutions and the ability to influence, guide and work closely with senior stakeholders in other business functions to find solutions that deliver value. Experience working with and managing IT consultants, vendors and the change management associated with outsourcing specialized/non-core competency needs is essential. The ideal candidate will have a track record of successful change management, process and performance improvement, along with demonstrated experience in planning. The position also requires demonstrated entrepreneurial ability to develop alliances and coordinate shared interests of all parties, with excellent communications and problem-solving skills designed to meet the challenges of the organization. S/he/they will possess demonstrable experience using data systems to improve departmental performance and outcomes. This person is a dynamic leader who can build and execute thoughtful and ambitious strategies while ensuring operational excellence. The CTO will be a results-oriented motivator with high standards for excellence. S/he/they will be a clear, consistent and empathetic communicator, someone who excels at relationship building, who is constantly innovating and has entrepreneurial instincts, who naturally absorbs new information, and who has a contagious drive for excellence and accountability.
For consideration, interested candidates should submit a cover letter and resume here. Your cover letter must address your experience and qualifications being sought. Electronic submissions highly preferred. Interested individuals are encouraged to apply immediately. To obtain further details about this opportunity, contact Myra T. Briggs, Managing Director at Nonprofit HR.
---

How We Work: Nonprofit HR's Commitment to Diversity, Inclusion & Difference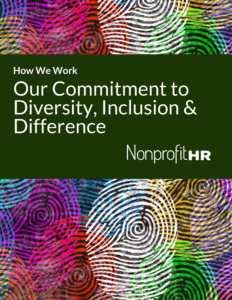 It is a high priority for us to foster and maintain an environment where diversity and inclusion are valued and realized to the benefit of you and the clients that we serve.
We believe strongly in treating everyone fairly and value the full diversity of our colleagues, clients, partners and vendors. Inclusion is how we live our commitment to fairness and diversity. It shapes how we honor the perspectives, abilities and identities of our colleagues; how we listen to, engage and respond to our clients; and how we connect to and appreciate each other and those we serve. We define diversity as differences that influence and affect our firm, our workplace culture, and the communities and clients we engage in the following areas: race, color, ethnicity, national origin, socioeconomic status, pay and benefits, ability, military service, age, faith, gender, sexual identity, personal appearance, pregnancy, and political views. Continue reading our about our commitment to diversity, equity and inclusion at nonprofithr.com/deinow.