EICS Credentials Specialist
PA, PA
Full Time
Mid Level
We are looking to hire a full-time EICS Credentials Specialist within our Programs & Services team. Are you a highly motivated, internally driven, and results-oriented? Do you want to work for a "best place to work" in the credentialing arena? If so, please read on!
This EICS Credentials Specialist earns competitive pay based on experience. We offer medical, RX, dental, and vision plans from top providers with low copays and large networks, as well as coverage for spouses, domestic partners, and children. We cover 100% of the premiums for employee dental, vision, core life, core disability, and core long-term care coverage. But that's only the beginning; we also offer a 403(b) retirement plan with employer contributions of 12% after one year, paid holidays, paid vacations, paid sick time, voluntary time off options, flexible scheduling, telecommuting, confidential employee counseling services, a wellness program, a tuition assistance program, career growth opportunities, free parking or paid public transportation assistance and a wonderful people-centered culture that encourages work-life balance. If this sounds like the right opportunity for you, apply today!
ABOUT ECFMG|FAIMER
A private nonprofit organization established in 1956, the Educational Council for Foreign Medical Graduates (ECFMG) is a world leader in promoting quality health care. We provide services to international physicians who want to enter the U.S. health care system and physicians working worldwide. Since our inception, we have certified more than 320,000 international medical graduates. To name just a few, we serve physicians, members of the medical education and regulatory communities, health care consumers, and researchers studying medical education and health workforce planning. Our experience in certifying International Medical Graduates (IMGs) has allowed us to develop programs that share our expertise with others involved in the assessment of physicians. Our Foundation for Advancement of International Medical Education and Research (FAIMER) division was incorporated as a nonprofit in 2000 and concentrated on creating educational opportunities for health professions educators, discovering patterns, disseminating knowledge, and developing data resources.
In recognition of the value of our employees, we strive to offer excellent benefits and an environment that emphasizes professional development and personal wellness. We were named a Top Workplaces in 2021 by the Philadelphia Business Journal!
A DAY IN THE LIFE
The primary responsibility of the EICS Credentials Services Specialist is to perform review and evaluation of a large volume of final medical diplomas, graduation documents, medical school transcripts, medical licenses, certificates of registration and post-graduate training documents for ECFMG's North American credentials clients. This work will support EICS clients, medical regulatory authorities and other institutions, in making critical decisions about licensure and/or physician employment. The position communicates with medical schools/institutions regarding routine matters of correspondence. This position will also contribute to efforts to ensure overall quality and accuracy of EICS processes and procedures, training and coaching of temporary and permanent staff.. The Credentials Specialist will occasionally communicate with applicants and medical schools.
QUALIFICATIONS
SKILLS
Commitment to excellent customer service

High level of analytical skills in the evaluation of applicant documents, including credentials, verifications, and identity documentation.

Effective oral, written, and interpersonal communications skills.

Effective time management

Ability to meet established deadlines and produce a high volume of work while maintaining accuracy and quality

Ability to quickly learn and apply ECMFG policies and procedures as they related to the processing of applicant documents.

Strong computer skills and adept at managing various computer programs simultaneously.

Effective organizational skills with the ability to manage multiple responsibilities.

Ability to interface and communicate with clients and co-workers in a clear and professional
EXPERIENCE
Four years professional experience in a service institution, preferably in college/university or other educational/research institution, involving processing of large volumes of educational credentials or similar documents.

Proven verbal and written communications skills required
EDUCATION
Bachelor's Degree or equivalent work experience required.
SALARY RANGE ($42,700 to $59,600)
Any offered salary within this band is determined based on: competency and skills, prior relevant experience, required degrees/certifications, internal equity within the organization and market competition.
WORK SCHEDULE
This full-time position typically works 7-hour workdays, Monday - Friday, with a flexible virtual work arrangement.
READY TO JOIN OUR TEAM?
If you feel that you would be right for this job, please fill out our initial 3-minute, mobile-friendly application. We look forward to meeting you!
---

Our Commitment to Diversity, Equity, Inclusion & Belonging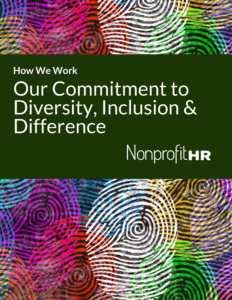 Nonprofit HR is committed to fostering and maintaining a work environment where diversity, equity, and inclusion (DEI) are fully integrated into everything we do for the benefit of our employees and the clients that we serve. To fully realize our goal, we prioritize our understanding of the complexities of DEI within our workforce to inform our approach to talent management. We believe that this guides how we do our work, advise our clients to operationalize DEI and position our content and educational opportunities help strengthen the talent management capacity of the social impact sector.
Continue reading our about our commitment at nonprofithr.com/deinow.
Apply for this position
Required*