Senior Director of Individual Giving
Remote
Full Time
Experienced
| | |
| --- | --- |
| Position Title | Senior Director of Individual Giving |
| Business Unit | Individual Giving |
| Home Department | Resource Development |
| Location | Eligible for Telecommuting |
| Telecommuter Status | Position Eligible for Telecommuting |
Mission
For more than 100 years, 4‑H has given kids a voice to express who they are and how they make their lives and communities better.
National 4-H Council (Council) is committed to providing leadership and resources so 4-H programs are available to youth across the country of all beliefs and backgrounds. Our executive leadership team and Board of Trustees are dedicated to the belief that helping kids achieve their boldest dreams empowers not only them, but also our communities to thrive today, tomorrow, and beyond.
Through life-changing 4‑H programs, nearly six million kids have taken on critical societal issues, such as addressing community health inequities, closing the digital divide, and advocating for equity and inclusion for all. 4‑H is delivered by the Cooperative Extension System—a community of more than 100 public universities across the nation that provides experiences where young people learn by doing.
Council is the private sector, non-profit partner of the Cooperative Extension System and the National Institute of Food and Agriculture within the United States Department of Agriculture.
Position Summary
4-H seeks a highly motivated and purpose-driven leader as Senior Director of Individual Giving. The Senior Director will foster a team to ignite and grow planned giving, major giving and annual appeals in support of 4-H's mission. Working directly with the Chief Development Officer, the Senior Director will develop strategy, execute growth plans, lead a team and inspire donors to invest in growing 4‑H to provide greater access to opportunity for all youth. As a senior leader on the Resource Development (RD) Team, the Senior Director will partner with Trustees, the Executive Team, influential alumni, major donors, and peer RD leaders to grow the individual giving portfolio. The Senior Director will leverage experience to assess and maximize prospect research, solicitation, acknowledgment, gift administration, recognition, stewardship, and renewal strategies.
Responsibilities
Team Leadership Duties
Build, lead, inspire, and manage a high-performing team of 3-5 associates that create and deliver on mass and major giving initiatives driving over $3 million annually.

Direct the planning, development, implementation, budgeting, maintenance, and support of all unit functions.

Administer and manage policies, standards, practices, and security measures for all unit functions to assure effective and consistent department operations.

Provide guidance and direction for development of all assigned Associates to ensure their personal growth and the growth National 4-H Council's culture.
Individual Giving Platform Development, Strategy Planning & Fundraising Duties
In alignment with National 4-H Council's Strategic Plan, develop the Individual Giving program strategy including but not limited to campaigns, planned giving, major giving and annual appeals.

In partnership with Marketing peers, develop strategy to maximize database constituents through donor conversion tactics.

Participate in the development of Resource Development's direction, plans, and programs as a strategic partner to the Chief Diversity Officer and External Affairs Committee of the Board.

Manage a budget of up to $750,000 to drive over $3 million in funding from individual donors.

Manage the organization's most important individual donor relationships, working closely with the CEO, CDO, and the Board, ensuring timely moves management, effective donor relationship building and strategic solicitations.

Participate in annual strategy and budget discussions as they relate to individual fundraising, and contribute to setting annual mass and major giving fundraising goals.

Design effective fundraising strategy, and execute tactics to increase giving by individual donors, with particular focus on major donors.

Lead individual prospecting efforts to attract new donors to the National 4-H Council, particularly those capable of making five- to seven-figure gifts.

Design innovative and fresh approaches to increasing investments in strategic priorities.

Manage existing planned giving program, assess current efforts and available organizational capacity; recommend future strategies and tactics to increase planned gifts.

In consultation with CEO and CDO, work with board members to implement giving strategies that ensure both increased board giving and fundraising activity.

Collaborate with Director, RD Operations to develop operations and individual giving processes that maximize pipeline growth and donor conversion.
Qualifications
Must display a growth mindset, team-first outlook, and be motivated by a passion for impacting youth.

Proven success in creating and implementing strategic face-to-face individual fundraising of five-figure gifts and above.

Must have a bachelor's degree with 10 - 15 years of senior professional fundraising experience and 5+ years of personnel management experience.

Experience working with Board of Trustee fundraising committees including campaign development, special events, direct solicitation, and stewardship.

Proven success in database management for pipeline development, annual giving, planned giving, direct mail programs, major giving, and donor stewardship.

Experience with strategic use of fundraising database software, preferably Microsoft Dynamics.

Knowledge or experience with 4-H or Cooperative Extension is a plus.
ADA Requirements
This job operates in a hotel and conference services environment. The physical demands described here are representative of those that must be met by an employee to successfully perform the essential functions of this job. Reasonable accommodations may be made to enable individuals with disabilities to perform essential functions.
Travel Requirements: Travel may be necessary, up to 25% of the time (local, regional, national). Would require travel by air, car, rail.
Career Ladder: This position typically has the following career ladder
Vice President, Indidvidual Giving

Chief Development Officer
Competencies
| | |
| --- | --- |
| Competency | Level (Beginning, Proficient, Advanced, Mastery) |
| Communications | Mastery |
| Critical Thinking | Advanced |
| Initiative & Innovation | Mastery |
| Collaboration & Teamwork | Mastery |
| Customer Orientation | Mastery |
| Business Mindedness | Advanced |
| Spirit of Diversity & Inclusion | Mastery |
Disclaimer
This job description indicates, in general, the nature and levels of work, knowledge, skills, abilities, and other essential functions (as covered under the Americans with Disabilities Act) expected of an incumbent. It is not designed to include or contain a comprehensive listing of activities, duties, or responsibilities required of an incumbent. An incumbent may be asked to perform other tasks as needed.
National 4-H Council is an Equal Opportunity/Affirmative Action employer.
---

Our Commitment to Diversity, Equity, Inclusion & Belonging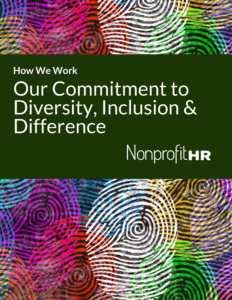 Nonprofit HR is committed to fostering and maintaining a work environment where diversity, equity, and inclusion (DEI) are fully integrated into everything we do for the benefit of our employees and the clients that we serve. To fully realize our goal, we prioritize our understanding of the complexities of DEI within our workforce to inform our approach to talent management. We believe that this guides how we do our work, advise our clients to operationalize DEI and position our content and educational opportunities help strengthen the talent management capacity of the social impact sector.
Continue reading our about our commitment at nonprofithr.com/deinow.
Apply for this position
Required*