Integrated Marketing Manager
Remote
Full Time
Experienced
| | |
| --- | --- |
| Position Title | Integrated Marketing Manager |
| Business Unit | Marketing & Brand |
| Home Department | Marketing & Brand |
| Location | Remote |
| FLSA Status | Exempt |
| Full-Time or Part-Time | Full-Time |
| Telecommuter Status | Position Eligible for Telecommuting |
Mission: 4-H believes in young people and giving all youth equal access to opportunity. For over 100 years, 4-H has supported the next generation of true young leaders. National 4‑H Council (Council) is committed to providing leadership and resources so that 4‑H programs are available to youth across the U.S. As the nation's largest youth development organization, 4-H grows confident young people who are empowered for life today and prepared for a career tomorrow. Our team is dedicated to helping kids – nearly six million every year – achieve their boldest dreams, empowering them and their communities through programs in STEM, Agriculture, Healthy Living, and Civic Engagement. The 4-H experience consistently results in youth being 2x more likely to excel in school, 4x more likely to act in their communities, 2x more likely to make healthier choices, and 2x more likely to pursue STEM education or careers. Together, we can create #opportunity4all.
Position Summary
4-H seeks an experienced and well-rounded marketer to help grow its differing program areas including STEM, healthy living civic engagement and agriculture. The role will involve top-to-bottom ownership of a portfolio partner marketing relationships, working with some of the world's biggest companies by creative marketing approaches to address their opportunities. In this dynamic role, the ideal candidate will be a skilled marketing strategist, project and product manager, storyteller, messaging specialist, partner (client), relationship manager, budget steward and more.
The ideal candidate has a knack for strategy and big-picture thinking, but also enjoys digging into all aspects of marketing execution. Additionally, this person is collaborative, skilled in managing high-value relationships, and has the experience to drive projects from conception to completion.
In response to COVID-19, all positions are currently temporarily remote
Responsibilities
Partnership Marketing Duties
Manage marketing for key corporate partnerships, working closely with the Resources Development team on new business proposals, as well as on renewals of existing partnerships.
Responsible for the stewardship and measurement of marketing investments by corporate partners during the terms of partnership agreements

Steward partnership marketing of several corporate partners, including managing a cross-functional marketing team to create and execute partnership marketing plans that deliver marketing value for both the partner and for 4-H.

Oversee development and implementation of integrated marketing and thought leadership plans for the four 4-H brand platforms (Agriculture, Cause, Healthy Living and STEM) aligned with 4-H's corporate partners.

Facilitate and orchestrate brand alignment between partner and brand goals through proposal development, program execution

Develop communication tools, resources, and training as part of the Initiative's Communication Resources to include toolkits, fact sheets, templates, FAQs, video resources, and digital/email communication.

Integrate donor deliverables and messaging into Council's overall consumer-facing efforts.
Relationship Building
Build strong relationships with Council associates, agencies and vendors.

Foster relationships with Cooperative Extension leaders and staff across the country to promote partnerships and amplify success stories of youth development happenings at the local level.
Marketing Operations
Oversee budgeting processes by serving as budget steward for brand operation and partner budget, including planning, sourcing, reconciliation, forecasting.

Oversee Marketing & Brand performance evaluations by managing and developing tracking tools and processes, monitoring key performance indicators and feeding into organizational dashboards, and making real-time assessments on strategies and tactics based on the latest data and insights.
Storytelling & Messaging
Work with 4-H's in-house creative team and agency partners to script, shoot, produce, and edit compelling video stories.
Write impact stories, talking points, event scripts, blog posts and long-form pieces that showcase the impact of 4-H's work and the power of the young people we serve.

Develop new forms of creative and compelling content to reach 4-H's key audiences.

Collaborate with the VP, Integrated Marketing and other team members to develop messaging that demonstrates our value proposition across multiple audiences).

Identify and pursue opportunities to get the 4-H brand in front of influencers, media, and relevant industry audiences.
Skills and Qualifications:
Bachelor's degree or higher, with at least seven years of relevant marketing experience, preferably including agency and in-house experience.

Experience leading large cross-functional teams on major projects or initiatives.

Proven track record of developing integrated marketing campaigns with strategies and tactics connected to tangible metrics and outcomes.

Experience managing agency partners and projects on-time and on-budget.

Track record of using data and analytics to improve results.

Experience co-creating issue-focused campaigns with partners/clients.

Demonstrated success in leading new business opportunities.

Exceptionally strong written and verbal communications skills.

Ability to communicate effectively with multiple high-profile donors and board members.

Strong organizational skills, with the ability to manage multiple priorities and deadlines.

Ability to think creatively and problem-solve in a fast-paced work environment.
National 4-H Council is an Equal Opportunity employer.
---

Our Commitment to Diversity, Equity, Inclusion & Belonging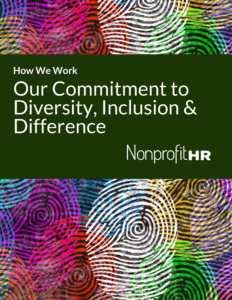 Nonprofit HR is committed to fostering and maintaining a work environment where diversity, equity, and inclusion (DEI) are fully integrated into everything we do for the benefit of our employees and the clients that we serve. To fully realize our goal, we prioritize our understanding of the complexities of DEI within our workforce to inform our approach to talent management. We believe that this guides how we do our work, advise our clients to operationalize DEI and position our content and educational opportunities help strengthen the talent management capacity of the social impact sector.
Continue reading our about our commitment at nonprofithr.com/deinow.
Apply for this position
Required*