Borealis philanthropy is looking for a temporary remote Accountant to join their team! Must have 3 to 5 years of nonprofit accounting experience, including experience with Sage Intacct and Bill.com. Experience with expense reporting software required, Tallie preferred. Experience with Salesforce and Integrated cloud based software(s) preferred.
Accounts Payable:
Process invoices in Bill.com (as back up to finance associate)

Process new vendor set ups and vendor account updates in Bill.com

Review open AP invoices

Review the bill.com clearing account

Review and clear bill.com sync error
Expense:
Export expenses to the general ledger

Reconcile the corporate credit card statement

Record the corporate credit card statement
Purchase Order:
Ensure the accurate flow of data between CRM and accounting system

Reconcile grants approved in CRM with the accounting system
Accounts Receivable:
Post-grant receivables in Intacct (as back up to finance associate)

Monitor AR aging

Post ACH payments

Update project status
Closing:
Review fund and department reports

Review trial balance
---

How We Work: Nonprofit HR's Commitment to Diversity, Inclusion & Difference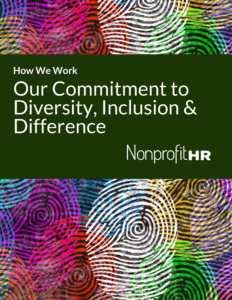 It is a high priority for us to foster and maintain an environment where diversity and inclusion are valued and realized to the benefit of you and the clients that we serve.
We believe strongly in treating everyone fairly and value the full diversity of our colleagues, clients, partners and vendors. Inclusion is how we live our commitment to fairness and diversity. It shapes how we honor the perspectives, abilities and identities of our colleagues; how we listen to, engage and respond to our clients; and how we connect to and appreciate each other and those we serve. We define diversity as differences that influence and affect our firm, our workplace culture, and the communities and clients we engage in the following areas: race, color, ethnicity, national origin, socioeconomic status, pay and benefits, ability, military service, age, faith, gender, sexual identity, personal appearance, pregnancy, and political views. Continue reading our about our commitment to diversity, equity and inclusion at nonprofithr.com/deinow.