COMPANY OVERVIEW
The Center for Earth Energy and Democracy (CEED) is a 501c3 non-profit with a mission grounded in the affirmation of the interconnectedness of the human and natural world and is committed to inspiring the change needed to create a healthy and vibrant environment for all communities in current and future generations.
CEED is grounded in the principle of self-determination of Indigenous, communities of color, and low-income and overlooked communities.
CEED works in collaboration with grassroots communities, policy makers, and researchers. It provides community education and capacity building on important energy, environment, and development issues so that all members of society may effectively participate in public decision-making. CEED works to ensure that communities and policy makers have the tools and information they need to create just, sustainable energy and environmental policy.
Over the years, CEED has grown its work to be active at a local (Minnesota), regional (Midwest), and national level.
One of CEED's signature accomplishments in recent years has been its leadership role in bringing together an alliance of environmental justice organizations and national environmental organizations to build an equitable and just national climate platform (EJNCP). EJNCP aims to advance the goals of economic, racial, climate, and environmental justice to improve the public health and well-being of all communities, while tackling the climate crisis. Unlike other efforts, EJNCP is defined by its members' execution of a set of commitments that ensure not only equitable and just outcomes, but also processes. CEED continues to play a key coordinating role in the EJNCP and seeks to enhance the capacity of other environmental justice organizations of the platform through focused staffing and work plans.
POSITION SUMMARY
The Communications Manager reports to the Deputy Director. They will work on Equitable and Just National Climate Platform projects and programs as well. (CEED is one of the founding and co-ordinating members of this platform). They are responsible for the design and implementation of CEED's strategic communications and narrative-shift objectives. The Communications Manager will increase visibility with CEED's donors, funders, supporters, and users. The Communications Manager will work collaboratively with the Executive Director to implement a strategic plan that represents the voice of each program and draws more awareness to the work that CEED does in indigenous, low income, and communities of color.
ESSENTIAL DUTIES AND REPONSIBILITIES (Duties that occupy a major portion of time and importance in the job)
Develop marketing and communications plans to promote CEED resources, research, publications, public awareness and advocacy efforts

Execute on marketing strategy for national, state, and local campaigns (environmental justice, Minneapolis Green Zones, climate policy, energy vulnerability, climate resiliency, building leadership, and popular education)

Write and edit content for website and email marketing efforts, including monthly newsletter

Contribute to marketing and communications support, including branding and online engagement

Maintain communications editorial calendar to align with CEED's overall strategy and goals

Contribute to fundraising engagement content development in collaboration with the Development Manager (Annual Fund, Annual Report, Donor Letters, Event Invitations/Press Releases)

Support media and other relevant partner relationships (included but not limited to environmental justice organizations, national environmental organizations, legislative staff, and government agencies) as needed.
Social Media Management
Manage all aspects of CEED's social media presence (to include but not limited to website, LinkedIn, Facebook, Instagram)

Drive strategy to increase daily engagement on CEED social media accounts

Lead content creation for CEED's Social Media, including written blog content, posts & videos

Increase awareness for key initiatives and events
Data & Analytics
Monitor, report and present on online engagement analytics (web, email, social media, earned media)

Leverage key engagement metrics across platforms to optimize content, messaging and distributions
QUALIFICATIONS KNOWLEDGE AND SKILLS REQUIRED (Minimum education and experience needed to perform the job adequately)
Bachelor's degree in communications, marketing, journalism, public relations or related field

OR

3+ years working in a communications role, especially in a non-profit setting

A significant part of this role involves engaging with other Environmental Justice (EJ) partners and communities and requires an orientation and mindset that centers their stories and work

Experience designing and executing on communications strategies and campaigns

Proven results in managing social media platforms (Facebook, Twitter, YouTube, Instagram, etc.) and analytics technologies (Sprout Social, Tweetreach, Meltwater, etc.) to engage a diverse audience

Familiarity with CMS platforms and basic HTML (WordPress, etc.)

Active listening skills

Great project management skills (goal-setting, prioritization, time management) and ability to meet deadlines

Experience with website content management systems like WordPress

Excellent oral, written, and interpersonal communications skills.
We'd love if you have this
Demonstrable experience working with BIPOC communities in a significant way

Demonstrable experience managing a team

A bachelor's degree in communications, marketing, advertising, business administration, public relations or another relevant discipline
Qualities that are important to us
A deep commitment to the values of social justice in all its forms.

A collaborative spirit.
Position may require frequent travel within the U.S. Evening and weekend work will sometimes be necessary to meet constituents and business leaders, participate in events, and otherwise fulfill the needs of the position.
SALARY & BENEFITS
Salary will be commensurate with experience
Benefits
100% employer paid medical and dental insurance and monthly contributions to a Health Savings Account. 10 holidays, 10 sick days and unrestricted paid vacation time. Office closed for one week for 4th of July holiday and in December for the holidays. Flexible work schedule in a remote environment.
Equal Employment Opportunity
CEED is dedicated to supporting and respecting the diverse community that different individuals cultivate. As an equal opportunity employer, we stay true to our mission by ensuring that our organization can be a place that celebrates diversity in all its forms. CEED does not discriminate in employment on the basis of race, color, religion, sex (including pregnancy and gender identity), national origin, political affiliation, sexual orientation, marital status, disability, genetic information, age, parental status, military service, or other non-merit factor.
HOW TO APPLY: CEED has exclusively retained Nonprofit HR to assist in its recruitment efforts for their Communications Manager. Please apply at: https://www.nonprofithr.com/direct-hire-communications-manager-center-for-earth-energy-and-democracy/
ADA SPECIFICATIONS (Physical demands that must be met to successfully complete the essential functions of the job)
---

How We Work: Nonprofit HR's Commitment to Diversity, Inclusion & Difference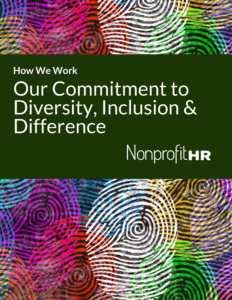 It is a high priority for us to foster and maintain an environment where diversity and inclusion are valued and realized to the benefit of you and the clients that we serve.
We believe strongly in treating everyone fairly and value the full diversity of our colleagues, clients, partners and vendors. Inclusion is how we live our commitment to fairness and diversity. It shapes how we honor the perspectives, abilities and identities of our colleagues; how we listen to, engage and respond to our clients; and how we connect to and appreciate each other and those we serve. We define diversity as differences that influence and affect our firm, our workplace culture, and the communities and clients we engage in the following areas: race, color, ethnicity, national origin, socioeconomic status, pay and benefits, ability, military service, age, faith, gender, sexual identity, personal appearance, pregnancy, and political views. Continue reading our about our commitment to diversity, equity and inclusion at nonprofithr.com/deinow.