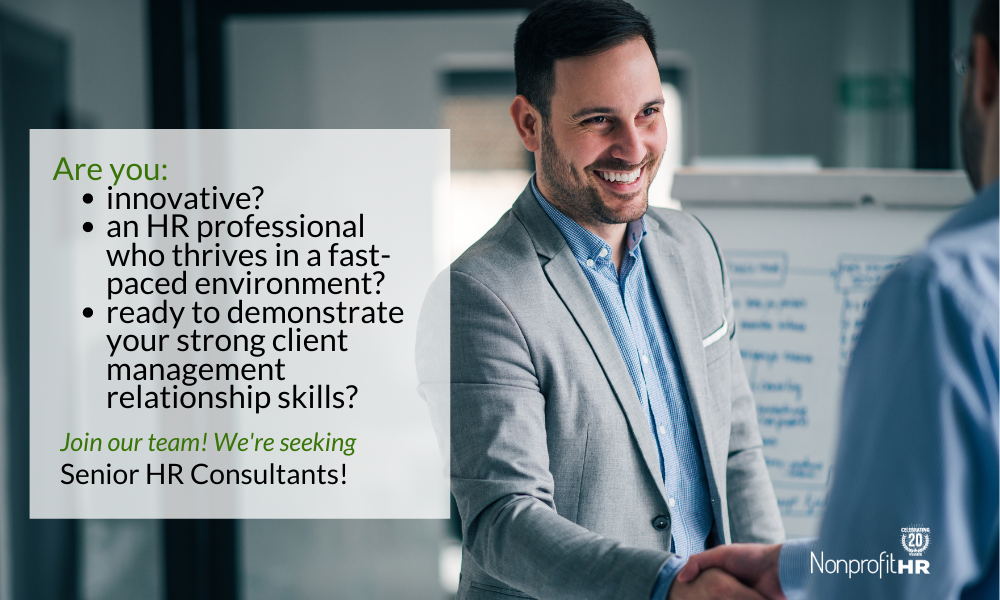 Do you have top-notch consulting skills that you would like to use to support nonprofits on a freelance and virtual basis? Nonprofit HR is seeking candidates interested in supporting our independent contractor needs as they arise across our practice areas. We partner with nonprofits and social enterprises to meet their growing talent management demands. Candidates should demonstrate experience in any of the following areas:
Strategy and Advisory - Senior level HR and organizational development (OD) experience; demonstrated experience leading initiatives related to workforce planning, HR audits & assessments, performance management systems, learning & development and organizational cultural assessments
Outsourcing – Senior level full HR life cycle support and strategy
Talent Acquisition/Search - Experience with full life-cycle recruiting; strong customer service; demonstrated effective client/customer relationships
DEI - Senior Level DEI training facilitation experience, DEI assessment, data analysis & strategy support, project management, client relationship management
All candidates should be innovative, thrive in a fast-paced environment, demonstrate strong client management relationship skills, have the ability to work confidently and independently, demonstrate excellent written and oral communication skills, and model a commitment to excellence. We are seeking candidates with experience in both for-profit and nonprofit organizations, including government contracting. Consultants will primarily work virtually.
If you would like to be considered for any of our exciting opportunities, please apply here. Please be sure to list your area of interest and note that you are interested in 1099/independent contractor roles.
---

How We Work: Nonprofit HR's Commitment to Diversity, Inclusion & Difference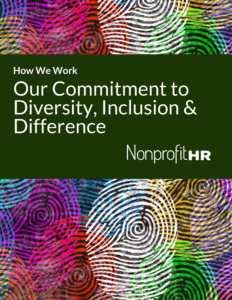 It is a high priority for us to foster and maintain an environment where diversity and inclusion are valued and realized to the benefit of you and the clients that we serve.
We believe strongly in treating everyone fairly and value the full diversity of our colleagues, clients, partners and vendors. Inclusion is how we live our commitment to fairness and diversity. It shapes how we honor the perspectives, abilities and identities of our colleagues; how we listen to, engage and respond to our clients; and how we connect to and appreciate each other and those we serve. We define diversity as differences that influence and affect our firm, our workplace culture, and the communities and clients we engage in the following areas: race, color, ethnicity, national origin, socioeconomic status, pay and benefits, ability, military service, age, faith, gender, sexual identity, personal appearance, pregnancy, and political views. Continue reading our about our commitment to diversity, equity and inclusion at nonprofithr.com/deinow.