CEED, one of the leading environmental justice non-profit organizations in the country, is looking for an Executive Director to lead and grow the organization in a time of great opportunity to advance the goals of securing a healthy and vibrant environment for all communities in current and future generations.
As CEED seeks to grow the organization, the Executive Director will be responsible for leveraging CEED's strong financial position to lead this organizational growth and build a team to continue delivering on its environmental justice commitments through its own national and regional work, as well as by enhancing and amplifying the capacity and work of other EJ organizations around the country.
Towards this end, CEED seeks an experienced and inspirational leader who can motivate, build, and execute thoughtful and ambitious strategies while ensuring operational excellence.
Skills, background, and experience
A background and grounding in social justice work and ideally environmental justice work is critical to succeed in this role.

A background in policy research and advocacy, while not critical, will greatly enhance the capabilities of this role.

Demonstrated experience in change management, strategic planning, and organizational planning to grow CEED in this period. Relatedly, demonstrated management experience and team-building skills to lead the organization in this growth phase.

Inclusive leadership skills, and experience creating and maintaining an organizational culture that attracts, motivates, and retains a diverse, talented staff to blend skill sets, meet objectives, and provide efficient program execution.

Strong public speaking skills and the ability to effectively represent CEED on various networks and alliances (the most prominent of them being the

Equitable and Just National Climate Platform

). This will require you to:

have excellent interpersonal and relationship building skills;

be a clear, consistent and empathetic communicator; and

coordinate the shared interests of all parties, with excellent communications and problem-solving skills designed to meet the challenges that emerge

You will also work with staff to forge, maintain and enhance relationships with funders. Demonstrated fundraising experience, especially with Foundations will be valuable.

CEED has begun to operate with staff in multiple locations. As remote work becomes more mainstream, we are looking to hire staff with requisite skills wherever they are available. Ability to navigate and manage a remote working environment is a critical skill in this role.
Qualities that are important to us
A deep commitment to the values of social justice in all its forms.

A collaborative spirit.

High standards for excellence.

Drive for accountability and transparency.
While not a requirement, we'd love if you have this
A bachelor's or other advanced degree in one of: Public Policy, Natural Resources Management, Environmental Sciences, Organizational Development, Community Development or a related field.

Demonstrable experience using data systems to improve program performance

and outcomes.
How to apply
CEED has exclusively retained NonprofitHR to assist in the recruitment efforts for their next Executive Director. This role is 100 percent remote.
For consideration, interested candidates should submit a cover letter and resume. Your cover letter must address your experience and qualifications being sought. Electronic submissions are highly preferred. Interested individuals are encouraged to apply immediately. Please visit: https://ceed.org for more information about CEED. To obtain further details about this opportunity, contact Myra T. Briggs, Managing Director or Jami Armstrong, Search Consultant at Nonprofit HR.
About CEED
The Center for Earth Energy and Democracy (CEED) is a 501c3 non-profit with a mission grounded in the affirmation of the interconnectedness of the human and natural world and is committed to inspiring the change needed to create a healthy and vibrant environment for all communities in current and future generations.
CEED is grounded in the principle of self-determination of Indigenous, communities of color, and low-income and overlooked communities.
CEED works in collaboration with grassroots communities, policy makers, and researchers. It provides community education and capacity building on important energy, environment, and development issues so that all members of society may effectively participate in public decision-making. CEED works to ensure that communities and policy makers have the tools and information they need to create just, sustainable energy and environmental policy.
Over the years, CEED has grown its work to be active at a local (Minnesota), regional (Midwest), and national level.
One of CEED's signature accomplishments in recent years has been its leadership role in bringing together an alliance of environmental justice organizations and national environmental organizations to build an equitable and just national climate platform (EJNCP). EJNCP aims to advance the goals of economic, racial, climate, and environmental justice to improve the public health and well-being of all communities, while tackling the climate crisis. Unlike other efforts, EJNCP is defined by its members' execution of a set of commitments that ensure not only equitable and just outcomes, but also processes. CEED continues to play a key coordinating role in the EJNCP and seeks to enhance the capacity of other environmental justice organizations of the platform through focused staffing and work plans.
In recognition of CEED's role, funders have been investing resources in CEED to improve its capacity to deliver on its mission and commitments. The budget of CEED has grown from under $500K to over $1M annually over the last couple of years, putting CEED in a strong financial position to realize its growth plans through 2022.
These developments make this a crucial time in CEED's history and present an exceptional leadership opportunity for its next Executive Director. The annual salary range for this position starts at $120,000 and is commensurate based on experience. In addition, we offer a competitive benefits package and the flexibility to work from home full time. Apply Now!
---

How We Work: Nonprofit HR's Commitment to Diversity, Inclusion & Difference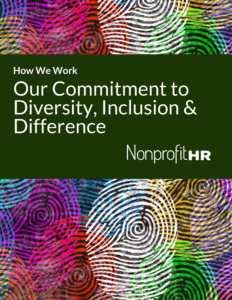 It is a high priority for us to foster and maintain an environment where diversity and inclusion are valued and realized to the benefit of you and the clients that we serve.
We believe strongly in treating everyone fairly and value the full diversity of our colleagues, clients, partners and vendors. Inclusion is how we live our commitment to fairness and diversity. It shapes how we honor the perspectives, abilities and identities of our colleagues; how we listen to, engage and respond to our clients; and how we connect to and appreciate each other and those we serve. We define diversity as differences that influence and affect our firm, our workplace culture, and the communities and clients we engage in the following areas: race, color, ethnicity, national origin, socioeconomic status, pay and benefits, ability, military service, age, faith, gender, sexual identity, personal appearance, pregnancy, and political views. Continue reading our about our commitment to diversity, equity and inclusion at nonprofithr.com/deinow.