Accounting Manager (Remote)
Remote
Full Time
Mid Level
HIRING RANGE: $75,000-$95,000
POSITION SUMMARY
This position will serve as accountant with respect to the implementation, preparation, accuracy, and oversight of Nonprofit HR's financial reporting and accounting processes. Individual will ensure accurate Accounts Payable and Accounts Receivable processing. The Accounting Manager ensures accurate accounting records and reporting and works closely with others on the Operations team to ensure effective financial operations and reporting.
ESSENTIAL DUTIES AND RESPONSIBILITIES
General Accounting
Oversees all accounts, ledgers, and reporting systems ensuring compliance with appropriate GAAP standards and regulatory requirements.

Maintains internal control and safeguards for receipt of revenue, costs, and program budgets and actual expenditures.

Maintains control over a monthly and annual closing process that ensures timely deliverables. Responsible for closing the Accounts Payable Ledger for the month, ensuring that all recurring invoices are processed for a given closed month before financial preparation.

Reconciles the monthly bank statements to the general ledger. Reviews investment statement each month, updates investment schedule and makes necessary journal to the general ledger.

Reconciles general ledger balance sheet accounts such as prepaid, staff advances, and accrued expenses on monthly basis working with the Managing Director of Operations.

Prepares and maintains a schedule of fixed assets.

Prepares and enters allocations of payroll taxes, benefits, and overhead costs to business units, ensuring that expenditures are consistently aligned with program budgets.

Performs special projects as needed and/or requested.
Accounts Receivable and Cash Receipts
Works with Operations team to ensure that invoices to customers are entered into Deltek system. Records and posts cash receipts.

Reconciles accounts receivable detail to general ledger. Monitors outstanding receivable balances and sends weekly A/R Aging report to Senior Management Team (SMT) & Leadership Team (LT). Prepares and sends monthly revenue distribution report for SMT and LT review.
Accounts Payable and Cash flow
Reviews invoices for accuracy and completeness. Ensures invoice approvals and proper account/project/business unit coding before processing into Deltek A/P Approval to ensure adherence to internal controls. Ensures approval of vouchers in order to create monthly/weekly batches for payment processing.

Reviews employee expense reports for accuracy and completeness and makes any necessary adjustment, if needed.

Assists with cash management to ensure that bill payments are timely and scheduled to maximize financial resources.

Works with Managing Director of Operations to determine cash availability.

Completes all processing to ensure that checks or electronic payments are distributed according to schedule.

Prints checks and prepares them for mailing, if needed.

Reviews and process monthly credit card bill and communicates all discrepancies with appropriate staff.
Payroll
Reviews reports from payroll provider.

Records payroll in general ledger.

Reviews quarterly and annual payroll reporting.

Maintains payroll journal and reconciles labor cost accounts to payroll journals monthly, adjusting costs in Deltek system as needed.
Accounting Records and Reporting
Prepares IRS 1099 and 1098 forms following IRS requirements and sends them to vendors as necessary, following up to ensure receipt.

Assists in the preparation of various reports for Nonprofit HR's tax accountant, as requested.

Maintains the accounting systems vendor master files and the accuracy of the signature authorization list. Ensures that checks are distributed in accordance with the requester's instructions.

Establishes and maintain a filing system to ensure ease of retrieval of all checks issued, the related support, and all tax filings made, as well as all vendor files and communication.
Budgeting
Provides assistance with creating and maintaining Nonprofit HR's annual budget.

Consults with appropriate staff to determine business unit-specific financial needs.

Monitors budget-to-actual items. Identifies cost-effective methods for purchasing. Provides monthly budgeting reporting and prepare budget revisions as necessary.
QUALIFICATIONS, KNOWLEDGE AND SKILL REQUIRED
Bachelor's degree in accounting, business administration, or related discipline with minimum of 5 years of experience in accounting lifecycle, including 3+ years' in accounts payable processing.

Proficiency in MS Office applications (Word and Outlook) and advanced skills in Excel.

Familiarity with IRS procedures for 1099 and 1098 filing.

Experience with financial software, ideally Deltek Vantagepoint.

Strong interpersonal and communication skills both oral and written.

Demonstrated ability to work effectively in a team and to collaborate with internal and external stakeholders at all levels.

Excellent attention to detail and organizational skills and the ability to prioritize and meet deadlines.
ADA SPECIFICATIONS
This position is largely sedentary in nature however one must possess the ability to speak, hear, see and write as well as the ability to use a computer and related software programs. Advanced math skills needed to calculate forecast budgets, financial modeling, formulas, tax rates, commissions, discounts, etc.
The above statements are intended to describe the general nature and level of work being performed by the individual(s) assigned to this position. They are not intended to be an exhaustive list of all duties, responsibilities, and skills required. Management reserves the right to modify, add, or remove duties and to assign other duties as necessary.
---

Our Commitment to Diversity, Equity, Inclusion & Belonging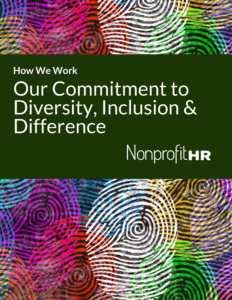 Nonprofit HR is committed to fostering and maintaining a work environment where diversity, equity, and inclusion (DEI) are fully integrated into everything we do for the benefit of our employees and the clients that we serve. To fully realize our goal, we prioritize our understanding of the complexities of DEI within our workforce to inform our approach to talent management. We believe that this guides how we do our work, advise our clients to operationalize DEI and position our content and educational opportunities help strengthen the talent management capacity of the social impact sector.
Continue reading our about our commitment at nonprofithr.com/deinow.
Apply for this position
Required*