Health Informatics Analyst (Health Care for the Homeless)
Baltimore, MD
Full Time
Mid Level
Job Function: At least 50% of position will be remote; however, the position will be required to report on-site upon request of their supervisor or the agency. General telework location must be within reasonable driving distance of our Baltimore-based offices.
Overview
The Health Informatics Analyst helps the agency to improve the services it provides by ensuring clinical data quality and integrity. They provide actionable data analysis and visualizations needed for high functioning business operations, quality improvement and risk management activities. The Analyst also trains and supports staff in proper use of the EHR and related applications.
Key Role Responsibilities
Collect, monitor, and analyze quantitative and qualitative data on individual, team and organizational levels in order to support continuous performance improvement. Create data visualizations, dashboards and scorecards to support help departments understand and take action.
Work with departments to understand business problems and opportunities, and to identify ways in which data mining and reporting can lead to solutions. Help end users interpret and understand data so they may use the information to drive operational improvement.

Interpret data using a variety of analytical methods. Develop process for reviewing query performance and optimizing code. Develop data models to visualize database structure.

Reconcile, test and implement data solutions for reports. Construct complex database queries and perform complex data mining exercises independently.

Manage, troubleshoot and close Health Informatics support tickets and requests in a timely fashion.

Train and update staff on the EHR and other informatics applications. Design and develop workflows and manuals to aid in training and documentation.
Assist with maintaining bolt-on solutions and software to create an overall seamless experience to end users. This includes dental EMR software, reporting tools, integrated faxing and other ancillary support functionality.
Key Agency Responsibilities
In addition to role responsibilities, each staff member of Health Care for the Homeless has the following responsibilities as a part of their employment:
Models and reinforces the Health Care for the Homeless core values of dignity, authenticity, hope, justice, passion and balance

Actively participates in performance improvement activities and actively participates in advocacy activities that support the mission

Performs other duties on an as-needed basis

Protects clients' personal health information by maintaining compliance with HIPAA and other relevant health care related IT security regulations
Knowledge, Experience and Skills
Formal Education and Training
Bachelor's degree in Computer Science, Management Information Systems, Health Information Management & Technology, Health Informatics or related field required

Advanced knowledge of statistical analysis tools (e.g., Excel, Access, SPSS, SASS, R, SQL, Tableau)

Expert level knowledge of HIPAA privacy and security requirements
Experience
Three years of experience supporting electronic health record applications, case management software platform

Three years of experience with SQL servers and relational database systems; advanced level programming ability in SQL

Two years of experience designing effective presentations and visualizations using statistical analysis tools
Skills
Strong interpersonal and relationship-building skills

Good judgment and decision-making abilities

Superior attention to detail and organizational skills
Strong analytic skills; able to gather and interpret complex data and present in a meaningful, user-friendly format

Strong written and verbal communication skills

Self-motivated; able to independently prioritize multiple projects and make thoughtful, considered decisions

Proactive and curious approach to work
Working Conditions and Physical Requirements
Activity

Some

Freq

Work Position %

Lift

0-50 lbs.

X

Sitting

90%

Carry

0-50 lbs.

X

Walking

5%

Push

0-50 lbs.

X

Standing

5%

Pull

0-50 lbs.

X

Stoop, Kneel

N/A

Crawl

N/A

Climb

N/A

Balance

N/A
Physical Requirements

Hazards

Mark with an X if this is a physical requirement for this job.

Mark with an X if this is a potential hazard for this job.

X

Manual dexterity (eye/hand coordination)

Use of Latex Gloves

Perform shift work

Exposure to toxic/caustic/chemicals/detergents

Maneuver weight of patients

Exposure to moving mechanical parts

Hear alarms/telephone/tape recorder

Exposure to dust/fumes

Reach above shoulder

Exposure to potential electrical shock

X

Repetitive arm/hand movements

Exposure to x ray/electromagnetic energy

X

Finger Dexterity

Exposure to high pitched noises

X

Color Vision

X

Exposure to communicable diseases*

Acuity – far

Blood born pathogen exposure

Acuity – near

Gaseous risk exposure

Depth perception

On Call
*May be exposed to infectious disease with little likelihood of harm if established procedures are followed
Health Care for the Homeless is an equal opportunity employer and is committed to racial equity and inclusion. We make a particular effort to recruit and promote Black, Indigenous and People of Color (BIPOC) for open positions. BIPOC, LGBTQIA+ individuals, people with disabilities, and people with other marginalized identities are encouraged to apply.
---

Our Commitment to Diversity, Equity, Inclusion & Belonging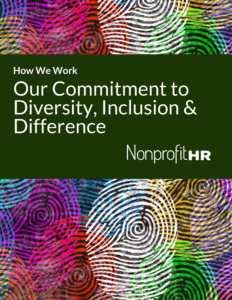 Nonprofit HR is committed to fostering and maintaining a work environment where diversity, equity, and inclusion (DEI) are fully integrated into everything we do for the benefit of our employees and the clients that we serve. To fully realize our goal, we prioritize our understanding of the complexities of DEI within our workforce to inform our approach to talent management. We believe that this guides how we do our work, advise our clients to operationalize DEI and position our content and educational opportunities help strengthen the talent management capacity of the social impact sector.
Continue reading our about our commitment at nonprofithr.com/deinow.
Read More
Apply for this position
Required*