Arkansas ACLU Communications Manager
Little Rock, AR
Full Time
Manager/Supervisor
About ACLU Arkansas:
The ACLU of Arkansas (ACLU-AR) is a nonprofit, nonpartisan organization which uses legal, legislative, and public education methods to protect and promote a broad range of constitutional issues including free speech, racial justice, voting rights, privacy, religious liberty, reproductive rights, LGBTQ equality, and more. The ACLU-AR is an affiliate of the national ACLU, the leading defender of civil liberties guaranteed by our nation's Bill of Rights.
Position:
This is a new position, and an opportunity to build out a comprehensive communications strategy for the ACLU of Arkansas. The Communications Manager reports to the Executive Director and is a member of the affiliate's leadership team who will play a key role in bolstering the ACLU-AR's visibility across the state. They will set and guide the strategy for all external communications to consistently articulate the mission of the ACLU-AR, reinforce the ACLU brand, and position the organization as the source for information about constitutional rights and civil liberties in Arkansas.
They will work closely with the Legal, Policy and Development teams on a variety of strategic initiatives, increase public awareness and appreciation of civil liberties, advocate for positive changes in the civil liberties landscape, and engage supporters in achieving our mission. This leadership team and the Executive Director together with finance team plot the future of the ACLU of Arkansas.
Top Reasons to Work at ACLU Arkansas:
Belonging to a team to protect and advance civil liberties in Arkansas

Medical Insurance Coverage for employee and family, 100% employer paid premiums.

401K – Up to 5.5% employer match (based on employee contribution rate)

Dental and Vision Insurance coverage for employee and family, 100% employer paid employer premiums.

Life Insurance, 100% employer paid premiums.

Short Term and Long-Term Disability Insurance, 100% employer paid premiums.

Generous Paid Time Off and holiday package.
Work Hours:
Exempt, Full-Time, 40 hours. Standard office hours are 8:00AM to 5:00PM Monday – Friday. Odd hours are often required, due to the nature of the work.
Key Job Duties:
Identify specific communications goals for the ACLU of Arkansas, develop plans and strategies to reach them, and measure progress. Determine appropriate communications tactics to disseminate ACLU news; promote our legal, legislative, and public education work as well as giving opportunities; publicize events and broaden ACLU audiences.
Handle all aspects of media relations: write and disseminate press releases and advisories; cultivate and maintain media contact lists for different issues; pitch stories to targeted reporters; field and respond to media requests; draft talking points; arrange interviews with ACLU spokespeople, and coach spokespeople on media skills.
Manage the online presence of the ACLU of Arkansas. Lead staff in generating content that is engaging, up-to-date, and results in measurable action. Develop and manage posting of content to ACLU of Arkansas' digital channels, including the web site, and social media (currently Facebook, Twitter, Instagram and LinkedIn), and communicate with ACLU subscribers via mass emails.
Assist with initiating and strengthening relationships with organizations and leaders who are aligned with the ACLU's mission and purpose. Identify opportunities for community outreach and mobilize volunteers to represent the ACLU-AR through tabling activities.
Key Attributes of a Winning Candidate:
Excellent Communicator

:

Communicate effectively (written and verbal) with all levels throughout the organization and the public. Confidentiality is key.

Socially Aware:

Commitment to civil liberties and valuing all people

Technical Familiarity

:

Understanding in computer-based applications email, and standard applications such as Microsoft Office, Excel, and Adobe Creative Suite.

Active Teamwork

:

Promote a personal and organizational commitment to diversity, equity, belonging, and inclusion in all interactions with donors, supporters, staff members, and the public.
Requirements:
Education:

Bachelor's degree in journalism, marketing or public relations and/or equivalent of education and experience preferred.

Experience:

Minimum of 5 years of experience and demonstrated success in communications or related field, preferably in the nonprofit sector.
Salary Range: Starts at $65,000 per year commensurate with experience.
Step up to your potential to change the world. Write your story and apply today!
Application Process:
To Apply: Please use the following link to submit applications of interest
Arkansas ACLU Communications Manager - Nonprofit HR - Career Page (applytojob.com)
COMMITMENT TO DIVERSITY, EQUITY, AND INCLUSION
The ACLU of Arkansas is an equal opportunity employer. We value a diverse work force and an inclusive and equitable office culture of belonging. We strongly encourage applications from all qualified individuals without regard to race, color, gender, gender identity or expression, sexual orientation, age, national origin, marital status, citizenship, disability, veteran status, or prior involvement in the criminal legal system.
EOE
---

Our Commitment to Diversity, Equity, Inclusion & Belonging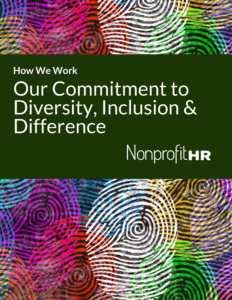 Nonprofit HR is committed to fostering and maintaining a work environment where diversity, equity, and inclusion (DEI) are fully integrated into everything we do for the benefit of our employees and the clients that we serve. To fully realize our goal, we prioritize our understanding of the complexities of DEI within our workforce to inform our approach to talent management. We believe that this guides how we do our work, advise our clients to operationalize DEI and position our content and educational opportunities help strengthen the talent management capacity of the social impact sector.
Continue reading our about our commitment at nonprofithr.com/deinow.
Apply for this position
Required*