Associate Director, Board Relations (National 4-H Council)
Washington, DC
Full Time
Manager/Supervisor
Our Mission: 4-H believes in young people and giving all youth equal access to opportunity. For over 100 years, 4-H has supported the next generation of true young leaders. National 4 H Council (Council) is committed to providing leadership and resources so that 4 H programs are available to youth across the U.S. As the nation's largest youth development organization, 4-H grows confident young people who are empowered for life today and prepared for a career tomorrow. Our team is dedicated to helping kids – nearly 6 million every year – achieve their boldest dreams, empowering not only them but their communities through programs in STEM, Agriculture, Healthy Living and Civic Engagement. The 4-H experience consistently results in youth 2x more likely to excel in school; 4x more likely to take action in their communities; 2x more likely to make healthier choices; and 2x more likely to pursue STEM education or careers. Together, we can create #opportunity4all.
Position Summary
The Director, Board Relations supports effective stewardship and meaningful engagement of Council's Board of Trustees (Board). The Director serves as the point person and on-the-ground logistics manager for in-person Board-related and Cooperative Extension (Extension) meetings and events, managing key operational processes and associated details. In addition, the Director also supports related, Cooperative Extension meetings and events that Council supports—either through sponsorship or logistical support. This role anchors internal efforts, external vendors, and strategic planning initiatives to drive efficiency and seamless execution of key Board convenings and activities.
Responsibilities
Event Management and Board Relations Duties
· Lead events planning for quarterly Board meetings and associated special events.
· Assist in execution of Council-supported Extension events such as ECOP 4-H Leadership Committee, 4-H Hall of Fame, and the National Leadership Meeting.
· Develop strategic approaches aligned with Board needs, Extension needs, donor partnerships, and executive requirements.
· Travel to and staff all Board meetings, events, and excursions to provide on-site event management, communications, and services.
· Coordinate all logistical details including scheduling, communications, accommodations and amenities.
· Support the development, revision and finalization of Board materials and agendas.
· Assist with Board recruitment and engagement activities
· Ensure all events support 4-H mission and organizational goals.
Project and Budget Management Duties
· Develop and track project schedules, agendas, and deliverables.
· Manage budgets and expenses related to Board activities.
· Negotiate contracts/agreements with third-party vendors and service teams.
· Develop and execute standards, practices, and procedures to ensure effective and consistent operations.
· Provide various event reports, analytics, and audits.
· Support the strategic projects and administrative needs of the Executive Office as required.
Skills and Qualification
· Bachelor's degree in nonprofit management, public administration, business administration, or related discipline.
· Minimum eight to ten years' experience in Board relations, event planning, or executive administration.
· Prior experience in special events operations and program management.
· Demonstrated professional experience interacting with senior management, Board members, and/or donors. Prior fundraising/development experience a plus.
· Demonstrated professional experience maintaining effective interpersonal communications with, and responsiveness to, all parties to drive collaboration and operational excellence.
· Must possess a strong attention to detail with the demonstrated ability to manage multiple projects and deadlines.
· Must possess the ability to build trust, evidence integrity, and demonstrate credibility with Council team members, Board members, and other relevant stakeholders.
· Must possess a high standard of ethics and the ability to effectively maintain confidentiality.
· Proficiency in MS Office applications (Word, Excel, PowerPoint, SharePoint and Outlook).
· Ability to effectively perform in a team-oriented environment.
Travel Requirements: Travel may be necessary up to 35% of the time (local, regional, national). Would require travel by air, car, rail.
Position typically has the following Career Ladder:
· Director, Board Relations
· Senior Director, Board Relations
· Vice President, Board Relations
ADA Requirements
The physical demands described here are representative of those that must be met by an Associate to successfully perform the essential functions of this job. Reasonable accommodations may be made to enable individuals with disabilities to perform the essential functions.
· This role routinely uses standard office equipment such as computers, telephones, photocopiers, and filing cabinets.
· This role requires travel and the ability to provide on-site attendance, requiring walking, standing, bending and sitting as necessary.
· Basic math skills needed to calculate formulas, commissions, discounts, etc.
· Must be able to lift up to 10 pounds.
Competencies
Competency Level (Beginning, Proficient, Advanced, Mastery)
Communications Mastery
Critical Thinking Mastery
Initiative & Innovation Advanced
Collaboration & Teamwork Mastery
Customer Orientation Advanced
Business Mindedness Advanced
Spirit of Diversity & Inclusion Advanced
Disclaimer
This job description indicates in general the nature and levels of work, knowledge, skills, abilities and other essential functions (as covered under the Americans with Disabilities Act) expected of an incumbent. It is not designed to cover or contain a comprehensive listing of activities, duties or responsibilities required of an incumbent. An incumbent may be asked to perform other duties as required.
---

Our Commitment to Diversity, Equity, Inclusion & Belonging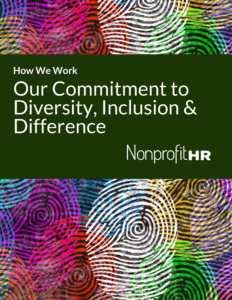 Nonprofit HR is committed to fostering and maintaining a work environment where diversity, equity, and inclusion (DEI) are fully integrated into everything we do for the benefit of our employees and the clients that we serve. To fully realize our goal, we prioritize our understanding of the complexities of DEI within our workforce to inform our approach to talent management. We believe that this guides how we do our work, advise our clients to operationalize DEI and position our content and educational opportunities help strengthen the talent management capacity of the social impact sector.
Continue reading our about our commitment at nonprofithr.com/deinow.
Apply for this position
Required*