Senior Informatics Specialist (Health Care for the Homeless)
Baltimore, MD
Full Time
Mid Level
Job Function: Partially remote: At least 50% of position will be remote; the position will be required to report on-site upon request of their supervisor or the agency. General telework location must be within reasonable driving distance of our Baltimore-based offices. 
Overview
The Senior Informatics Specialist helps the agency to improve the services it provides by developing staff competencies and assisting with workflow design in the electronic health record (EHR). They consult in workflow design; create workflow documentation; and deliver technical trainings.This position is a liaison between Health Informatics and the clinics, ensuring that the agency has the clinical data, data analyses and reports that enable it to stay in compliance, offer high quality, safe care and meet budget.
Key Role Responsibilities
In partnership with leadership, identify technical training requirements, identify skills and knowledge gaps, and train agency staff in the EHR and related software. Produce training materials, guides and workflows to support standardized usage of the systems. Assess how users are progressing periodically with their use of clinical applications and disseminates training and materials to develop user proficiency, efficiency and satisfaction.

Develop and monitor measurements of EHR process improvements Perform needs assessments for complex workflows. Identify potential process-specific risks and works collaboratively to develop strategies to mitigate or resolve them. Draft quality standards, conduct audits and identify improvements to workflows and operations.

Work with departments to understand business problems and opportunities, and to identify ways in which data mining and reporting can lead to solutions. Help end users interpret and understand data so they may use the information to drive operational improvement.

Serve as auxiliary support within the Health Informatics Department to update and maintain documentation of the EHR and related software.
Key Agency Responsibilities
In addition to role responsibilities, each staff member of Health Care for the Homeless has the following responsibilities as a part of their employment:
Models and reinforces the Health Care for the Homeless core values of dignity, authenticity, hope, justice, passion and balance

Actively participates in performance improvement activities and actively participates in advocacy activities that support the mission
Performs other duties on an as-needed basis

Protects clients' personal health information by maintaining compliance with HIPAA and other health care related IT security regulations
Knowledge, Experience and Skills
Formal Education and Training
Bachelor's degree in a clinical discipline, Health/Nursing Informatics, Computer Science or related field

Licensed clinician preferred
Experience
3 years of experience in an ambulatory care setting
1-2 years of experience supporting an electronic health record system

1 year of SQL or related coding experience

1 year of experience conducting trainings in a racially and culturally diverse environment

Demonstrated experience managing simultaneous projects on varying timelines

Demonstrated experience with workflow design and systems documentation
Skills
Passion for leveraging technology to improve workflows and experiences

Strong analytic skills; able to gather and interpret complex data and present in a meaningful, user-friendly format

Eagerness to learn new skills, including, but not limited to, coding and statistical analyses
Superior attention to detail and organizational skills

Strong interpersonal and relationship-building skills

Strong written and verbal communication skills

Learns and adapts quickly; is self-reflective
Health Care for the Homeless is an equal opportunity employer and is committed to racial equity and inclusion. We make a particular effort to recruit and promote Black, Indigenous and People of Color (BIPOC) for open positions. BIPOC, LGBTQIA+ individuals, people with disabilities, and people with other marginalized identities are encouraged to apply.
---

Our Commitment to Diversity, Equity, Inclusion & Belonging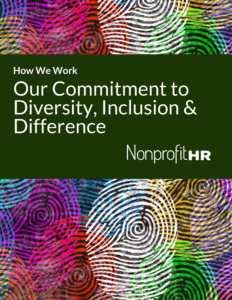 Nonprofit HR is committed to fostering and maintaining a work environment where diversity, equity, and inclusion (DEI) are fully integrated into everything we do for the benefit of our employees and the clients that we serve. To fully realize our goal, we prioritize our understanding of the complexities of DEI within our workforce to inform our approach to talent management. We believe that this guides how we do our work, advise our clients to operationalize DEI and position our content and educational opportunities help strengthen the talent management capacity of the social impact sector.
Continue reading our about our commitment at nonprofithr.com/deinow.
Apply for this position
Required*