Senior Advisor, DEI (Contract)
Remote
Full Time
Senior Manager/Supervisor
POSITION SUMMARY
The external DEI function leads the integration of principles of diversity, equity, and inclusion across the Council's member-facing work. The Senior Advisor will be responsible for providing enterprise-level support to incorporate diversity, equity, and inclusion (DEI) across Council programs, offerings, and communications coaching individual staff members and teams, and supporting the design of new programming and content for Council members, in partnership with relevant internal stakeholders.
This is a new role created to build organizational capacity to sustainably thread diversity, equity, and inclusion through existing workstreams. Working across the organization, this position will support a culture of learning and inquiry that will enable staff to experiment, tolerate risk, and grow from failures.
To perform this job successfully, an individual must be able to perform each essential duty satisfactorily. The requirements listed within are representative of the knowledge, skills, minimum education, training, licensure, experience, and/or ability required. This is a contract position starting with a 1-year commitment.
PRIMARY JOB DUTIES AND RESPONSIBILITIES
Threading DEI Across External Work
Review, provide feedback on, and upgrade the Council's existing sub-strategy and guiding principles on DEI in external work, including how we approach membership and fundraising.

Develop and lead the implementation of an organization-wide approach to threading diversity, equity, and inclusion across existing workstreams.

Work with Council teams to audit existing offerings and identify opportunities to apply diversity, equity, and inclusion lens, including to our work on policy & advocacy, leadership development, legal resources, publications, global grantmaking, and work that supports HR/talent leaders.

Coordinate with the People & Culture team to understand and align with internal staff capacity-building efforts related to racial equity, diversity, and inclusion (REDI), including possibly participating as a member of the internal REDI Committee.
Staff Coaching and Support
Advise, partner with, and coach Council staff members to inform, design, develop, deliver, and monitor their external work with an equity lens.

Facilitate organizational-wide learning on the advancement of our DEI sub-strategy.
Provide consistent and tailored support to departments on integrating and maintaining DEI in external work at the team level.

Foster independent thinking across departments through training and constructive feedback.

Onboard new staff to the Council's approach to DEI in external work and deliver refresher training as needed.
Work with executive office colleagues to contribute to the annual collaborative work planning process to ensure ongoing application of a DEI lens across organizational workstreams.

Participate in cross-functional teams.
Program Design
Engage in early design work for new external DEI programs and resources, specifically focused on providing an "on-ramp" for funders who are early in their DEI journey.
QUALIFICATIONS
Bachelors' degree

7-10 years of experience in program evaluation, nonprofit management, organizational learning, and development, and/or organizational communications.
GENERAL SKILLS AND COMPETENCIES
Experience incorporating and coaching others to incorporate diversity, equity and inclusion into programmatic work.

Expertise in program design, including planning, implementing, improving, and monitoring programmatic work with an equity lens.

Proficiency in strategy development.

Deep understanding of diversity, equity, and inclusion best practices

Strong understanding of the philanthropic and the charitable sector.

Ability to work independently and as part of a diverse team.

Strong project management skills and ability to meet deadlines.

Excellent verbal and written communication skills, including the ability to communicate and share updates at the executive level.

Excellent interpersonal skills, ability to listen well, and effectively represent the organization and its mission.

Strong presentation skills.

Ability to build positive relationships and collaborate effectively with a range of individuals and working styles, and with people at all organization levels including staff, board members, foundation officers, donors, and vendors.

Experience with CRM database solutions, preferably Salesforce.

Proficient skill in Microsoft Office 365 applications.
WORK ENVIRONMENT AND PHYSICAL DEMANDS
The work environment and physical demands described here are representative of those that must be met by an employee to successfully perform the essential functions of this job. Reasonable accommodations may be made to enable individuals with disabilities to perform the essential functions.
This position operates in a professional office environment and routinely uses standard office equipment.

The ability to sit, stand or walk for long periods of time (8+ hours/day).

The ability to lift up to 20 lbs. (with or without assistance).

The ability to push, pull, bend, kneel, reach, stoop, and crouch.

Specific vision abilities required by this job includes near, far, peripheral, and depth and the ability to adjust focus (with or without the use of corrective lenses).
TRAVEL REQUIREMENTS
Ability to travel up to 10% domestically, including overnight trips.
Please note, this job description is not designed to cover or contain a comprehensive listing of activities, duties, or responsibilities that are required of the employee for this position. Activities, duties, or responsibilities may change at any time with or without notice. The requirements listed above are representative of the knowledge, skill, and/or ability required.
---

Our Commitment to Diversity, Equity, Inclusion & Belonging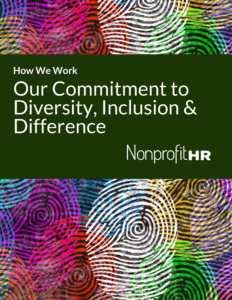 Nonprofit HR is committed to fostering and maintaining a work environment where diversity, equity, and inclusion (DEI) are fully integrated into everything we do for the benefit of our employees and the clients that we serve. To fully realize our goal, we prioritize our understanding of the complexities of DEI within our workforce to inform our approach to talent management. We believe that this guides how we do our work, advise our clients to operationalize DEI and position our content and educational opportunities help strengthen the talent management capacity of the social impact sector.
Continue reading our about our commitment at nonprofithr.com/deinow.
Read More
Apply for this position
Required*