Executive Director (Jane's Due Process)
Austin, TX
Full Time
Executive
Job Announcement: Executive Director
About the Organization
Jane's Due Process helps young people in Texas navigate parental consent laws and confidentially access abortion and birth control. We provide free legal and practical support, 1-on-1 case management, and stigma-free information on sexual and reproductive health to Texas youth. We are working towards a future where young people in Texas have full reproductive freedom and autonomy over their healthcare decisions. Visit our website to learn more about our work: https://janesdueprocess.org/
About the Opportunity
Jane's Due Process (JDP) seeks an experienced and visionary leader to serve as our new Executive Director. The Executive Director oversees the organization's staff and daily operations, inspires our community of supporters, represents the organization in the press and to the public, stewards our financial health through fundraising, and maintains local, state and national partnerships. To ensure we continue to meet the needs of our clients and stakeholders, Jane's Due Process has exclusively retained Nonprofit HR to aid in the recruitment efforts for its next Executive Director.
The Executive Director is the principal liaison between the board and all other stakeholders and works collaboratively with the Board of Directors to lead the continued growth of JDP. The Executive Director must be a strategic thinker and can create and sustain organizational partnerships and manage day to day operations and staff.  They should also be a servant leader with a commitment to inclusivity and integrity, with values deeply rooted in helping young people towards a future where they have full reproductive freedom and autonomy over their healthcare decisions and body autonomy.
The Executive Director will directly supervise the Deputy Director, External Affairs Director, and Legal Director. The Executive Director reports to the JDP Board of Directors to ensure the successful implementation of JDP's vision and values including monthly reporting on financial and programmatic outcomes, and attendance at quarterly board meetings.  Proven experience implementing programs that advance an organizations mission and vision.  This ED will be critical in advancing the mission and commitment to expand teens' reproductive rights in Texas. 
The ED will provide oversight for daily organizational operations as well as engage in long-term financial planning, including annual budgeting and taxes, as well as regular audits of our financial processes and procedures. Additionally, the ED is expected to lead from a place of honesty and vulnerability, with thoughtful awareness of unequal power dynamics and implicit bias, cultivating a collaborative and inclusive working environment as well as maintain the confidentiality of the organization's sensitive and legally privileged information, including for minor clients.
Critical to the success of the role will be the ability to lead and drive; grow, unify, and inspire our community of partners; and lead and manage our growing team with humility and a shared power philosophy. During these turbulent and ambiguous times, the Executive Director is steadfast, accountable, and leads with grace.  
About the Ideal Candidate
The ideal candidate must possess a deep understanding of reproductive rights, health and justice and racial justice with excellent communication skills, including the ability to address conflict directly with compassion and empathy. The ED must have proven experience building effective partnerships and coalitions among organizations and advocates with a track record of raising significant funds from institutional and individual supporters. The ideal candidate will have management experience such as direct supervision of staff members, interns, volunteers or organizers and financial management experience, comfortable with accounting and budgeting processes. While the Executive Director does not need be an attorney, the position requires being able to analyze laws, legislation and to make decisions about potential litigation related to JDP's work.
The Executive Director role must live in or be willing to relocate to Texas.
Compensation and Benefits
The salary range is $110,000-$150,00 annualized, commensurate with experience. Benefits include a fully remote, 32-hour work week, 100% employer covered health, vision, and dental insurance, short & long term disability and life insurance for employees. As well as annual self-care stipend and professional development funding, 25 days paid vacation, holiday, and sick leave, and employer 5% match contribution to retirement savings plan.
How to Apply
Impact Search Advisors by Nonprofit HR is leading the search process on behalf of Jane's Due Process. Inquiries regarding the search process should be directed to Jami Armstrong, Senior Consultant at Nonprofit HR. Please submit a cover letter and your resume at https://nonprofithr.applytojob.com/apply/n2Xh265mUb/Executive-Director-Janes-Due-Process 
Jane's Due Process is an equal opportunity employer. All employment decisions, including decisions regarding selection, hiring, compensation, benefits, training, advancement, discipline, discharge, and other terms, conditions and privileges of employment are based on individual qualifications, without regard to race, ethnicity, religion, national origin, sex (including pregnancy), age, disability, sexual orientation or any other status protected by law.
---

Our Commitment to Diversity, Equity, Inclusion & Belonging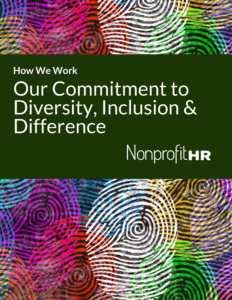 Nonprofit HR is committed to fostering and maintaining a work environment where diversity, equity, and inclusion (DEI) are fully integrated into everything we do for the benefit of our employees and the clients that we serve. To fully realize our goal, we prioritize our understanding of the complexities of DEI within our workforce to inform our approach to talent management. We believe that this guides how we do our work, advise our clients to operationalize DEI and position our content and educational opportunities help strengthen the talent management capacity of the social impact sector.
Continue reading our about our commitment at nonprofithr.com/deinow.
Apply for this position
Required*