This position would act as a project manager for grant deliverables and reporting to the funder. This position would support the programs and development teams in order to meet deadlines and organize communications. This position will also help onboard and train the full-time grants manager on responsibilities and systems for about 2-3 months during their onboarding period.
This contract is remote, part-time (20/hrs a week).
Examples of responsibilities would include:
Data entry for our grants and transactions into our Grant Tracker,

Monitoring reporting deadlines, and then

Communicating those deadlines (likely with additional follow-up) to the programs and development teams.

Document correspondence between staff and foundation staff and manage the Development calendar.
Requirements
You have at least three years' relevant administrative, office management, or grants management experience; familiarity with managing foundation grants preferred, but not required.

You enjoy creating more efficient systems and processes; you are detail-oriented, highly organized, and have a demonstrated ability to manage multiple projects.

You are skilled at conducting high-quality and thorough research and analysis.

You are a skilled interpersonal communicator and produce high-quality written products, which are error-free, clear, and well-organized; you excel at copyediting.

You are committed to building your racial equity competencies and center your role in an analysis and understanding of how race and power shape systems in our society and culture; you are continuously learning, reflecting, and growing.

You are proficient in Microsoft Office365 applications; and familiarity with Salesforce and Airtable are a plus, but not required.

You are committed to contributing to positive workplace culture by extending grace to yourself and others, being self-aware, receiving and acting upon feedback, and working collaboratively and respectfully to resolve conflict.
---

How We Work: Nonprofit HR's Commitment to Diversity, Inclusion & Difference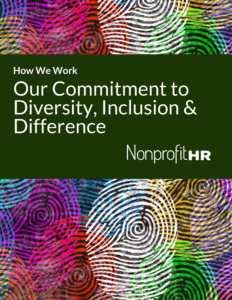 It is a high priority for us to foster and maintain an environment where diversity and inclusion are valued and realized to the benefit of you and the clients that we serve.
We believe strongly in treating everyone fairly and value the full diversity of our colleagues, clients, partners and vendors. Inclusion is how we live our commitment to fairness and diversity. It shapes how we honor the perspectives, abilities and identities of our colleagues; how we listen to, engage and respond to our clients; and how we connect to and appreciate each other and those we serve. We define diversity as differences that influence and affect our firm, our workplace culture, and the communities and clients we engage in the following areas: race, color, ethnicity, national origin, socioeconomic status, pay and benefits, ability, military service, age, faith, gender, sexual identity, personal appearance, pregnancy, and political views. Continue reading our about our commitment to diversity, equity and inclusion at nonprofithr.com/deinow.