Associate HR Consultant (W-2)
Remote
Full Time
Mid Level
TITLE: Associate Consultant
CLASSIFICATION: Regular, full-time, Exempt
REPORTS TO: Consultant or Team Leader
HIRING RANGE: $55,000-$75,000
POSITION SUMMARY:
The Associate Consultant provides operational and administrative human resources support, under the guidance and direction of a Strategist, Consultant or Team Leader, to retained or project-based clients. Acts as an essential part of the service delivery team that interacts with client POCs and employees handling day to day HR operational activities, programs and projects. The HR Associate may be the point of contact for client employees, maintaining the confidentiality of sensitive information, following established policies and procedures, and ensuring compliance with state and federal laws.
DUTIES & RESPONSIBILITIES:
In support of the client will provide full spectrum HR support and assistance to employees, managers, HR team members, HR vendors, external agencies in the day-to-day application of specified HR processes, policies, procedures and documentation. General areas include benefits, payroll, time-tracking, employee events (hire, termination, leave of absence), job changes, compensation actions, HR policies, learning/training, performance management and employee relations.

For more complex questions or issues, the Associate triages and escalates to the Consultant or Team Leader.

Assist with drafting employee correspondence, such as letters of offer, employment agreements, memorandums and other correspondence as required.

Assist with assembling material for orientation sessions for new employees and ensures that required employee information is obtained and secured within the employee's personnel file.

Under direction, assists in the implementation of comprehensive and impactful HR priority plans to ensure client needs are met.

Support multiple clients concurrently, whether virtual/on-site or retained/project.

Work with multiple vendors and partners to administer total reward programs and HR programs and plans.

Assist in drafting employee communications and presentations to advance client HR initiatives.

Assist in conducting periodic audits to ensure compliance with federal, state and local laws, as well as adherence to best practices. Maintains records and reports in accordance with applicable laws.

Stay abreast of HR best practices, integrating learnings into client engagement and collaborate and share meaningful data with colleagues.
KNOWLEDGE, SKILLS & ABILITIES:
Emerging career practitioner with no less than three years of HR lifecycle experience in a team environment or a professional services firm

Human Resources certification preferred or achieved within first year of employment
Foundational knowledge in principles and practices of human resources management
Experience developing relationships with clients and client employees
Proven ability to plan and manage cross-functional initiatives
Sound analytical and trouble shooting skills. Ability to make sound judgment, improve processes and demonstrate accuracy and thoroughness

Advanced organizational and planning skills, project planning and management skills, project planning and management skills. Proven ability to set priorities, meet deadline and multi-talk with minimal supervision

Excellent written and oral communication skills with demonstrated experience speaking and writing clearly and convincingly

Ability to adapt best class human capital recommendations to be persuasive to different audiences in a professional and unbiased manner

Flexibility to adjust work and communication style based on situational need

Aptitude for critical thinking and to evaluate ideas and synthesize information into insights

Ability to travel occasionally



ADA SPECIFICATIONS:
This position is largely sedentary in nature however one must possess the ability to speak, hear, and write as well as the ability to use a computer and related software programs, and lift up to 20 lbs. Ongoing local and/or national travel periodically required.
The above statements are intended to describe the general nature and level of work being performed by the individual(s) assigned to this position. They are not intended to be an exhaustive list of all duties, responsibilities, and skills required. Management reserves the right to modify, add, or remove duties and to assign other duties as necessary.
---

Our Commitment to Diversity, Equity, Inclusion & Belonging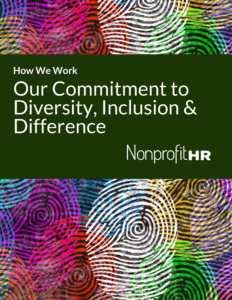 Nonprofit HR is committed to fostering and maintaining a work environment where diversity, equity, and inclusion (DEI) are fully integrated into everything we do for the benefit of our employees and the clients that we serve. To fully realize our goal, we prioritize our understanding of the complexities of DEI within our workforce to inform our approach to talent management. We believe that this guides how we do our work, advise our clients to operationalize DEI and position our content and educational opportunities help strengthen the talent management capacity of the social impact sector.
Continue reading our about our commitment at nonprofithr.com/deinow.
Apply for this position
Required*