Chief People Officer (Operation HOPE)
Atlanta, GA
Full Time
Executive
JOB ANNOUNCEMENT: EVP, CHIEF PEOPLE OFFICER
OPERATION HOPE
Operation HOPE is dedicated to financial dignity and inclusion. We equip young people and adults with the financial tools and education to secure a better future—coaching them through their personal aspirations and life's challenges, and facilitating their journey to financial independence. This position will provide strategic and operational oversight for the development of Financial Literacy for All (FL4A), an initiative launched in May, 2021 with key Fortune 500 private sector leaders aimed at creating opportunities and access to financial literacy for all Americans.
ABOUT THE ROLE
The Chief People Officer (CPO) develops and builds out multiple key initiatives and programs that are aligned with the organization's goals and objectives. The CPO reports to the Chief Administrative Officer, who is a member of the executive management team and serves as an advisor to the executive team and others on all aspects of their talent management platform. This includes setting a vision for creating the strategy for building a best in class talent enterprise. The CPO will be responsible for designing, finalizing and updating the HR policies, contributing to business strategy, developing workforce plans and programs that align with the organizations overall strategic objectives, forecasting talent needs and addressing the talent gaps, orchestrating career development of the workforce, designing and implementing a robust Performance Management program and managing compliance issues, policies and procedures, workers compensation administration, wage and salary administration, benefits administration, and employee assistance.
Essential Duties and Responsibilities:
Supervise the HR staff (4) and lead in creating an inviting and cohesive employee experience.

Implement HR policies and programs including employee relations, recruiting and staffing, wage and salary administration, benefits, and management training.

Partner with management to address day-to-day HR operational issues such as employee and labor relations, compensation reviews, escalated benefits issues, performance management and training.

Provide objective and strategic input and guidance to employees at all levels of the organization including career development, and general management / employee relationship issues.

Guide managers and employees in resolving employee relations issues by providing effective conflict resolution and coaching to with the ultimate goal of turning employee behavior around.

Identify and implement compliance and employee development training programs.

Develop and implement effective hiring and employee retention programs.

Investigate claims of misconduct and escalates to legal and security team as required.

Develop and manage annual budgets for the department and perform periodic cost and productivity analyses.

Maintains current knowledge of industry trends and employment legislation to insure regulatory compliance. Identifies trends that could impact the organization objectives.

Maintain an effective level of business literacy including company goals, mission, financial position, strategy, competition, technology and culture.

Other duties as assigned.
ABOUT THE IDEAL CANDIDATE
To fulfill this strategic role, the CPO must possess a broad range of business knowledge and leadership skills, including:
Vigilance in scanning the external environment to anticipate business and talent threats and opportunities.

Strategic thinking skills to work with the executive team to set direction.

Cross-functional business understanding with a P&L orientation.

The conceptual skills to shape the organization to meet tomorrow's demographic challenges.

Financial acumen to broadly balance resources and understand the financial implications and tradeoffs of investments in every aspect of the business, including talent.

Technological savvy to drive efficiencies and to engage the workforce through innovations in technology solutions.

A risk management perspective with regard to talent.

Legal literacy to help ensure a culture of compliance and integrity at every level of the organization and across borders.

Operational ability to ensure that the transactional aspects of HR are well executed in a world of fast-moving and changing expectations of the employee population.
Qualifications:
Qualified candidates have a minimum of 15 years of experience at the executive management level with at least five (5) years in top management. The candidate should hold a post graduate degree such as a Masters in HR, an MBA or other business-related Masters. The ideal candidate possesses outstanding interpersonal, coaching and listening skills with the ability to communicate within all levels of the organization. A proven ability to remain objective, discrete and exercise sound judgment at all times is a must. The ideal candidate has a successful track record of developing strong, trusting relationships in a diverse setting and at all levels of the organization. This leader thrives in a dynamic environment and enjoys working on various projects simultaneously and demonstrates strong organizational and time management skills.
The target salary range for this role is $120,000 to $140,000. The position is located in Atlanta, GA, and is primarily on-site.
EEO Statement
Operation HOPE is an Equal Opportunity Employer, all qualified applicants will receive consideration for
employment without regard to race, color, religion, sex, age, national origin, protected veteran status, disability status, sexual orientation, gender identity or expression, marital status, genetic information or any other characteristic protected by law.
HOW TO APPLY
Operation HOPE has exclusively retained Impact Search Advisors by Nonprofit HR to assist in the recruitment efforts for its CPO. For consideration, interested candidates must submit a completed application, as well as a cover letter and resume as soon as possible. Your cover letter must address your experience and qualifications as aligned with the needs of the organization. Please visit: operationhope.org for more information about the organization. To obtain further details about this opportunity, contact Danisha Martin, Senior Search Consultant at Nonprofit HR.
---

Our Commitment to Diversity, Equity, Inclusion & Belonging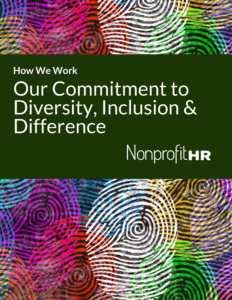 Nonprofit HR is committed to fostering and maintaining a work environment where diversity, equity, and inclusion (DEI) are fully integrated into everything we do for the benefit of our employees and the clients that we serve. To fully realize our goal, we prioritize our understanding of the complexities of DEI within our workforce to inform our approach to talent management. We believe that this guides how we do our work, advise our clients to operationalize DEI and position our content and educational opportunities help strengthen the talent management capacity of the social impact sector.
Continue reading our about our commitment at nonprofithr.com/deinow.
Apply for this position
Required*