Development Manager (Everybody Votes Campaign)
Washington, DC
Full Time
Experienced
ABOUT EVERYBODY VOTES CAMPAIGN
Everybody Votes Campaign (EVC) is a national non-partisan, not-for-profit hiring staff for a large-scale coordinated civic engagement campaign active through the 2024 election cycle. The campaign aims to create a more representative democracy by registering millions of underrepresented voters across the country. This effort focuses on voter registration in a targeted fashion by conducting at-scale, effective, efficient, metrics-driven registration work. Through this work, we seek to fundamentally change the make-up of the electorate and to increase the political power of traditionally underrepresented communities in our democracy.
We directly fund organizations who execute voter registration and run quality control operations. We are dedicated to being active participants with the organizations to ensure their programs are effective and promote an investment in the future of emerging communities.
ABOUT THE OPPORTUNITY
The campaign seeks an experienced staffer to work under the Deputy Director of Finance as the Development Manager. The ideal candidate will be the primary contact for funders, board members, and other key stakeholders. This is a new full-time position, and we seek someone who will embrace the challenge of building out the internal infrastructure needed to raise a significant annual budget through a combination of major gifts, annual commitments, individual donor solicitations, and engagement of external allies and the board of directors.
WHAT YOU WILL DO IN YOUR ROLE
Create and oversee the development of systems and infrastructure for a best in class fundraising operation while ensuring compliance, accountability, and integrity.

Develop, track, and report out on a plan for reaching the organization's fundraising goals to include renewing current donors and cultivating prospective donors.

Initiate and cultivate relationships with a diverse array of prospective donors in a bespoke manner and as part of a broader donor maintenance program.

Pitch donors independently as needed, as well as staff the Executive Director and other key stakeholders in such donor meetings, briefings, and events.

Create and maintain a donor-facing communication program including newsletters, presentations, memos, acknowledgment letters, and end-of-year reports.

Act as the primary point of contact for the board of directors, funders, and other key stakeholders related to fundraising and governance.

Review grant proposals and reports prepared by external grant writers prior to submission and work with the Deputy Director of Finance to prepare financial reports as needed.

Work collaboratively with people of different backgrounds, skill sets, and expertise, and have a demonstrated commitment to diversity, equity, and inclusion.
CORE COMPETENCIES
Growth mindset: demonstrated ability to take and receive feedback with professionalism and grace from peers and staff as well as supervisors.

Relentlessly goal-oriented: enjoys working toward and achieving ambitious goals; willing to go over, under, around, or through any obstacle that gets in the way of meeting goals with a proven track record of creating and executing/managing comprehensive strategic goals.

Cultural competency: able to build relationships and collaborate with colleagues, partners, and stakeholders across multiple lines of identity difference.

Keeps calm in stressful situations: demonstrated capacity and willingness to work long hours during peak season, rolling up their sleeves and getting the work done.
REQUIREMENTS FOR THIS ROLE
Experience successfully managing significant fundraising campaigns of at least $5 million annually.

Excellent communication skills, both written and oral, with experience creating donor-facing memos and fundraising presentations for use in numerous formats and settings (i.e. one-on-one vs. group meetings, online and in-person, etc.).

Experience engaging external allies and stakeholders as part of a broader development strategy, including helping leverage their networks in support of our overall fundraising goals.

Proven track record of managing projects start to finish in a detail-oriented manner, even while juggling multiple responsibilities with competing deadlines.

Experience successfully implementing donor management systems.
Helpful but not required:
Experience working in the fields of voter registration or voting rights.

Existing relationships with foundations, donors, and other fundraising prospects.

Experience planning and executing donor events and presentations in person and virtually.

Familiarity with G-Suite, Slack, Zoom, Monday.com, and Microsoft Dynamics.
BENEFITS AND CULTURE
We offer flexible remote forward work, and a generous benefits package, including 100% cost coverage of employee health benefits, 401K with an automatic employer contribution regardless of employee contribution level, virtual therapy, a stipend for ergonomic office set ups, and generous vacation and leave policies.
Our work is centered on creating a deeply inclusive and significantly more representative electorate. In order to be successful in this role, the candidate must have the cultural competence to successfully work with a diverse group of staff, partners and stakeholders. We especially strongly encourage applicants with close ties to Black, Latinx, Indigenous, non-English-speaking, disability, and LGBTQ+ communities to apply. We are proudly an Equal Opportunity Employer.
---

Our Commitment to Diversity, Equity, Inclusion & Belonging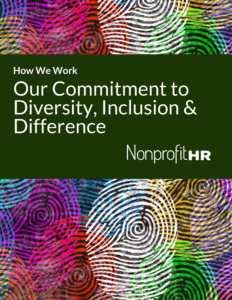 Nonprofit HR is committed to fostering and maintaining a work environment where diversity, equity, and inclusion (DEI) are fully integrated into everything we do for the benefit of our employees and the clients that we serve. To fully realize our goal, we prioritize our understanding of the complexities of DEI within our workforce to inform our approach to talent management. We believe that this guides how we do our work, advise our clients to operationalize DEI and position our content and educational opportunities help strengthen the talent management capacity of the social impact sector.
Continue reading our about our commitment at nonprofithr.com/deinow.
Apply for this position
Required*