Our nonprofit client is seeking Senior Digital Strategists to develop digital strategies and support the execution of these plans. These positions will report to the Director of Communications and serve as an important part of the digital and social media operations within the Communications Department.
The Senior Digital Strategists will work closely with the Communications Management team and serve as liaison(s) for programs and operations staff, connecting across teams and functions to advance the objectives of the organization.
ESSENTIAL JOB FUNCTIONS
Oversee development and execution of short- and long-term digital strategies that advance programs and goals
Develop content and incorporate all digital assets and tactics (e.g., influencer strategies, websites, social media, video, graphics, etc.)
Develop and execute paid social media ad campaigns
Manage and oversee digital assets including websites and social media accounts, ensuring a consistent organizational voice
Develop and implement plans to strategically grow brand and supporters
Establish digital media metrics (goals, objectives and measures of success)
Compile monthly digital reports to the Director and quarterly digital reports for the Board of Directors
Develop departmental digital policies and procedures for consistency and clarity in our work
Other duties as assigned
MINIMUM REQUIREMENTS AND QUALIFICATIONS
---

How We Work: Nonprofit HR's Commitment to Diversity, Inclusion & Difference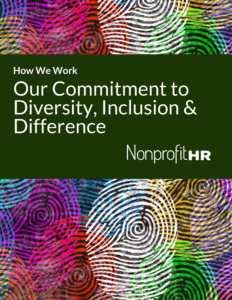 It is a high priority for us to foster and maintain an environment where diversity and inclusion are valued and realized to the benefit of you and the clients that we serve.
We believe strongly in treating everyone fairly and value the full diversity of our colleagues, clients, partners and vendors. Inclusion is how we live our commitment to fairness and diversity. It shapes how we honor the perspectives, abilities and identities of our colleagues; how we listen to, engage and respond to our clients; and how we connect to and appreciate each other and those we serve. We define diversity as differences that influence and affect our firm, our workplace culture, and the communities and clients we engage in the following areas: race, color, ethnicity, national origin, socioeconomic status, pay and benefits, ability, military service, age, faith, gender, sexual identity, personal appearance, pregnancy, and political views. Continue reading our about our commitment to diversity, equity and inclusion at nonprofithr.com/deinow.