Human Resources Manager (MPJI)
Remote
Full Time
Mid Level
About Marsha P. Johnson Institute:
The Marsha P. Johnson Institute (MPJI) protects and defends the human rights of BLACK transgender people. We do this by organizing, advocating, creating an intentional community to heal, developing transformative leadership, and promoting our collective power. We intend to reclaim Marsha P. Johnson and our relationship as BLACK trans people to her life and legacy. In our reclaiming of Marsha, we give ourselves permission to reclaim autonomy to our minds, to our bodies, and to our futures. We were founded both as a response to the murders of BLACK trans women and women of color and how that is connected to our exclusion from social justice issues, namely racial, gender, reproductive justice, and gun violence.
We invite members to learn about who Marsha P. Johnson was while exploring themselves. MPJI seeks to eradicate systemic, community, and physical violence that silences our community from actualizing freedom, joy, and safety.
We were created to elevate, support, and nourish the voices of BLACK trans people. Our community is made up of BLACK trans people and those committed to undoing white supremacy in all of its forms. Our space is intended for the sole purpose of bettering the BLACK trans community across the diaspora.
We are committed to this organization, always being led by the most radical BLACK trans people whose imaginations exist beyond the confines of the state. We believe that BLACK people are the future. We invite all qualified BLACK trans people to apply to be a part of our passionate staff.
The Opportunity:
The Marsha P. Johnson Institute is seeking a highly motivated and flexible Human Resources Manager. This individual will report to the Director of Operations and work closely to ensure the quality and timeliness of human resources activities. They will be responsible for managing all human resources activities for MPJI. The primary responsibilities of this position include but are not limited to:
Primary Responsibilities:
· Oversee the daily workflow of the HR department projects and tasks.
· Partners with CEO team to lead change management and establishment of organizational culture.
· Leads diversity, equity, and inclusion (DEI) efforts at the organization and facilitates DEI training and growth opportunities for the organization.
· Provide support and act as a subject matter expert to provide guidance to management and other staff when complex, specialized, and sensitive questions and issues arise; may be required to administer and execute routine tasks in delicate circumstances such as facilitating interactive process discussions, investigations, and corrective actions action and terminations.
· Provide strong leadership and people management that reflects MPJI's values, including mutual respect, compassion, and integrity.
· Manage talent acquisition process, which may include recruiting, interviewing, and hiring qualified job applicants, and collaborate with hiring managers to understand the skills and competencies required for job openings.
· Analyze trends in compensation and benefits; research and proposes competitive base and incentive pay programs to ensure the organization attracts and retains top talent.
· Maintain employee files and data utilizing the HRIS platform.
· Collaborate with cross-functional leadership to review and evaluate current HR systems and processes and develop, implement, and integrate new or updated HR processes and systems to ensure essential aspects of employee administration are executed on time, accurately, and efficiently.
· Create, maintain and update HR policies; update the Employee Handbook annually.
· Manage the annual Performance Review cycle and processes.
· Create learning and development programs and initiatives that provide internal development opportunities for employees.
· Partner with Accounting and Payroll on HR-related matters, including payroll processing, benefits premiums and changes, and timekeeping issues.
· Administer Leaves of Absence, including FMLA and ADA.
· Maintains compliance with Federal, State, and local laws and regulations and recommended best practices; reviews policies and practices to maintain compliance.
· Maintains knowledge of trends, best practices, regulatory changes, and new technologies in human resources, talent management, and employment law.
· Propose changes to existing policies & practices and introduce new approaches to improve HR systems and functions.
· Manage third-party consultants, vendors, and contractors.
· Perform other duties as assigned.
Skills Required:
· BS/BA in Management, Human Resources, Business Administration, Organizational Psychology or related field required.
· A minimum of five years of human resource management experience is preferred.
· Professional HR Certification (SHRM CP/SCP or PHR/SPHR) is highly desired.
· Previous experience with nonprofit human resources preferred.
· Ability to act with integrity, professionalism, and confidentiality.
· Excellent organizational skills and attention to detail.
· Proficiency with Microsoft Office Suite or related software.
· Thorough knowledge of employment-related laws and regulations.
· Ability to listen openly, think strategically, and influence across all levels of an organization.
· Excellent verbal and written communication skills.
· Excellent interpersonal, negotiation, and conflict resolution skills.
· Ability to work collaboratively in a team, promote mutual accountability, inspire trust and confidence from HR colleagues and business leaders alike, and influence key stakeholders.
· Strong analytical, critical thinking and problem-solving skills.
· Proven experience identifying and leading change and building this capability in others.
· Strong project-management skills, from concept to planning to implementation.
· Attention to detail.
Salary & Benefits:
During the COVID-19 pandemic, this position is remote. The salary range is between $85,000 and $95,000 annually based on experience.
All MPJI staff should be:
· Personable with a good sense of humor
· Must be passionate about and able to relate to under-represented individuals in the LGBTQIA+ community.
· Solution-oriented with the ability to counterbalance problems with creative solutions.
· Energetic and committed to working in an entrepreneurial environment with the ability to prioritize responsibilities while delivering timely and accurate work products.
ADA Specifications:
· The physical demands described here represent those that an individual must meet to perform the essential functions of this job successfully. Reasonable accommodations may be made to enable individuals with disabilities to perform the essential functions.
· While performing the duties of this job, the individual is regularly required to sit and talk or hear. The individual is occasionally required to stand or walk; use hands to handle or feel; stoop, kneel, crouch, or crawl; and reach with hands and arms. The individual must occasionally lift and/or move up to 50 pounds. Specific vision abilities required include close vision.
· The above statements are intended to describe the general nature and level of work being performed by the individual(s) assigned to this position. They are not intended to be an exhaustive list of all duties, responsibilities, and skills required. Management reserves the right to modify, add, or remove duties and assign other tasks as necessary. In addition, reasonable accommodations may be made to enable individuals with disabilities to perform the essential functions of this position.
---

Our Commitment to Diversity, Equity, Inclusion & Belonging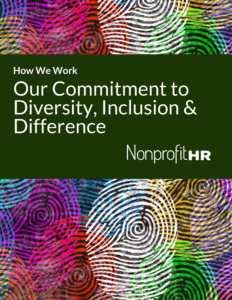 Nonprofit HR is committed to fostering and maintaining a work environment where diversity, equity, and inclusion (DEI) are fully integrated into everything we do for the benefit of our employees and the clients that we serve. To fully realize our goal, we prioritize our understanding of the complexities of DEI within our workforce to inform our approach to talent management. We believe that this guides how we do our work, advise our clients to operationalize DEI and position our content and educational opportunities help strengthen the talent management capacity of the social impact sector.
Continue reading our about our commitment at nonprofithr.com/deinow.
Apply for this position
Required*