Senior Director, Talent Management
New York, NY
Full Time
Experienced
Department: Talent Management
Title: Senior Director, Talent Management
Reports To: SVP, Human Resources and Chief Talent Officer
Summary
Under the general direction of the Senior Vice President, Human Resources, the Senior Director Talent Management is responsible for managing talent and performance management strategy, focusing on identifying ways to develop employees' careers and drive a high-performance culture. He or she annually reviews and makes recommendations for improvement of the League's policies, procedures, and practices on human capital matters. The Senior Director maintains knowledge of industry trends and employment legislation. S/he manages other external human capital related agency projects and programs as assigned.
Essential Functions
· Analyzes business needs and identifies new HR tools and processes to enable the contemporary efficient management of human capital.
· Manages the annual performance scorecard process and implements systems to improve processes and recommends employee development initiatives based on analysis.
· Manages compensation program and annual analysis of structure, with outside vendors as needed.
· Develops new people-related initiatives that drive employee engagement.
· Serves as an escalation point for employee relations issues, supporting investigations or mediations as needed.
· Develops processes and initiatives that foster a diverse, equitable and inclusive work environment.
· Serve as an internal consultant to facilitate team building; support changes in group strategy/directions/expectations.
Education
· Bachelor's degree in Business, Human Resources, or a related field.
Experience
· Minimum of 7-10 years of experience as a human resources generalist.
Skills and Knowledge
· Strong knowledge of labor laws and HR compliance.
· Strong consultative skills
· Top-notch written and verbal communication skills
· Coaching and mediation skills
· A positive attitude
· A team-oriented spirit
· HR Certification (SHRM-SCP or SPHR) preferred
Physical Requirements:
· Prolonged periods sitting at a desk and working on a computer.
· Must be able to lift to 15 pounds at times.
Travel
This position may require 15- 20% travel.
Following extensive monitoring, research, and advice from internal and external experts, the National Urban League has required all full-time and part-time employees to receive the COVID-19 vaccine as a condition of employment as of September 13, 2021. "Fully vaccinated" is defined as both doses of the Pfizer or Moderna vaccine or one dose of the Johnson & Johnson vaccine and a booster shot. Anyone unable to be vaccinated, either because of a medical condition or disability or a sincerely held religious belief, can request a reasonable accommodation. Successful applicants for this position must be fully vaccinated against COVID-19 per the above policy. Mandatory vaccinations support the National Urban League's commitment to making our workplace and public events as safe and welcoming as possible.
---

Our Commitment to Diversity, Equity, Inclusion & Belonging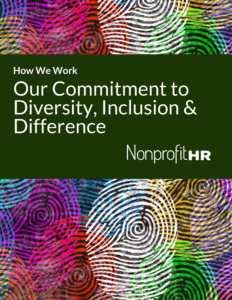 Nonprofit HR is committed to fostering and maintaining a work environment where diversity, equity, and inclusion (DEI) are fully integrated into everything we do for the benefit of our employees and the clients that we serve. To fully realize our goal, we prioritize our understanding of the complexities of DEI within our workforce to inform our approach to talent management. We believe that this guides how we do our work, advise our clients to operationalize DEI and position our content and educational opportunities help strengthen the talent management capacity of the social impact sector.
Continue reading our about our commitment at nonprofithr.com/deinow.
Apply for this position
Required*