Integrated Marketing Specialist (National 4-H Council)
Chevy Chase, MD
Full Time
Senior Manager/Supervisor
Our Mission: increase investment and participation in 4‑H programs to support the next generation of true young leaders. National 4‑H Council (Council) is committed to providing leadership and resources so that 4‑H programs are available to youth across the US. Our executive leadership team and Board of Trustees are dedicated to the belief that helping kids achieve their boldest dreams empowers not only them but also our communities to thrive today, tomorrow, and beyond. Council supports national and state 4‑H programs with a focus on fundraising, brand management, communications, and legal and fiduciary services. Council also oversees the National 4‑H Conference Center, and the National 4‑H Supply Service, the authorized agent for items bearing the 4‑H Name and Emblem.
Position Summary
National 4-H Council is seeking a creative, well-rounded marketer with strong writing and program management skills to support its rapidly growing science, technology, engineering, and math (STEM) program area for a one-year grant funded position with the possibility of extension. He or she will primarily work on the 4-H Tech Changemakers program, which provides people across the country with digital skills training and broadband access designed to expand opportunities in employability, education, innovation and more. He or she will be responsible for finding innovative ways to help 4-H'ers tell the story of their work and the impact it has on their communities. The ideal candidate will have no trouble managing multiple responsibilities, ranging from in-house reporter, to marketing strategist, to hands-on marketing program manager. On a given day, this role might include interviewing teens or program participants, writing an article or op-ed, coordinating a local marketing event, designing a nationally representative survey, conducting a media training for teens or local spokespeople, or program managing a large cross functional team.
The ideal candidate is a skilled writer and project manager with a background in grassroots PR and marketing. Additionally, he or she is collaborative, skilled in managing relationships, and has the experience to drive projects from conception to completion. This role will report directly to the Youth Voice Manager with close integration to the Integrated Marketing Manager for 4-H Tech Changemakers.
Responsibilities
Project Management and Operations (60% of time)
· Lead the creation of a 4-H Tech Changemakers youth spokespeople cohort, including selection, training and mentorship of teens and overseeing day to day operations.
· Collaborate with Council teams for the seamless integration of 4-H Tech Changemakers into Council-related events, marketing initiatives, partner activities, etc.
· Support operations and program implementation for the 4-H Tech Changemakers program and other STEM partnership including creating ppts, marketing materials, scheduling
meetings, drafting internal and external communications, and managing the Teams program site and other support duties.
· Assist with other projects as required.
Storytelling and Marketing (40% of time)
· Train and coach youth leaders on developing content (blogs, videos, webinars, etc) to tell their stories and promote Tech Changemakers in their local communities.
· Craft impactful stories about Tech Changemakers for 4-H's online platforms and media distribution by acting as an investigative reporter. Including, following leads, conducting research, and interviewing youth and adults.
· Support the national distribution strategy for Tech Changemakers impact stories, working with the IM Manager to identify and elevate stories for thought leadership, media opportunities and social media.
· Prepare teen spokespeople for in-person and virtual thought leadership and marketing appearances.
· Identify potential story leads and collaborate with Council staff to determine the best opportunities for sharing those stories.
Qualifications
· Bachelor's degree or higher in marketing, communications, journalism, English, social sciences or a related field with at least three years of relevant experience.
· Exceptionally strong written and verbal communications skills, ideally with journalism experience or a history of published works. Strong organizational skills, with the ability to manage multiple priorities and deadlines.
· Established track record of managing projects to successful completion, both on time and within budget.
· Proven experience planning and executing large events or initiatives from conception to completion.
· Ability to think creatively and problem-solve in a fast-paced work environment.
· Ability to engage with and motivate young people effectively.
· Experience with mentoring young people.
Travel Requirements: Travel may be necessary once Covid safety concerns have abated, up to 15% of the time (local, regional, national). Would require travel by air, car, rail.
Position typically has the following Career Ladder:
· Marketing Manager
· Senior Marketing Manager
· Marketing Director
ADA Requirements
This position operates in a hotel and conference services environment. The physical demands described here represent those that must be met by an Associate to perform the essential functions of the position. Reasonable accommodations may be made to enable individuals with disabilities to perform the essential functions.
· Role routinely uses standard office equipment such as computers, telephones, photocopiers, filing cabinets, and fax machines.
· Mostly a passive role; however, some filing is required.
· Requires the ability to lift files, open filing cabinets, and bend or stand as necessary.
· Necessary math skills needed to calculate formulas, commissions, discounts, and so forth.
· Must be able to lift 10 to 20 pounds.
Competencies
Competency Level (Beginning, Proficient, Advanced, Mastery)
Communications Advanced
Critical Thinking Proficient
Initiative & Innovation Proficient
Collaboration & Teamwork Advanced
Customer Orientation Proficient
Business Mindedness Beginning
Spirit of Diversity & Inclusion Proficient
Disclaimer
This position description indicates, in general, the nature and levels of work, knowledge, skills, abilities, and other essential functions (as covered under the Americans with Disabilities Act) expected of an incumbent. It is not designed to include or contain a comprehensive listing of activities, duties, or responsibilities required. An incumbent may be asked to perform other tasks as needed.
---

Our Commitment to Diversity, Equity, Inclusion & Belonging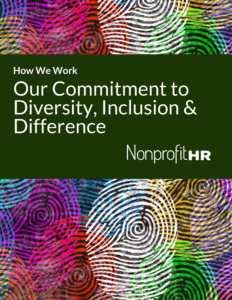 Nonprofit HR is committed to fostering and maintaining a work environment where diversity, equity, and inclusion (DEI) are fully integrated into everything we do for the benefit of our employees and the clients that we serve. To fully realize our goal, we prioritize our understanding of the complexities of DEI within our workforce to inform our approach to talent management. We believe that this guides how we do our work, advise our clients to operationalize DEI and position our content and educational opportunities help strengthen the talent management capacity of the social impact sector.
Continue reading our about our commitment at nonprofithr.com/deinow.
Apply for this position
Required*