POSITION SUMMARY Responsible for ensuring that the administrative workflow of supervisors is completed in an organized and timely manner. Manage facilities to ensure that building services are provided consistently, and maintenance issues are addressed in a timely manner.
ESSENTIAL DUTIES AND RESPONSIBILITIES
Field inbound communications -

Serve as the first point of contact in the office with the general public and membership: staffing the front office; answering phones; responding to general inquiries and requests for legal assistance.

Organize internal resources -

Perform office duties, including managing the mail, maintaining office supply inventories, copying, and filing. Monitor and oversee the maintenance of office equipment

Communicate policies and procedures -

Maintain, update, and secure hard copy and electronic filing systems, implement efficient and effective filing procedures, observe all confidentiality restrictions.

Liaise with vendors -

Manage and troubleshoot office systems, including telephone, voicemail, and information technology. Contact and interface with vendors, customer service, and IT support as necessary.

Facilitate executive-level operations -

Perform basic bookkeeping and manage annual reporting for the organization.
QUALIFICATIONS, KNOWLEDGE SKILL REQUIRED (Minimum education and experience needed to perform the job adequately)
Associates Degree. Bachelor's preferred.

1-2 years of experience as an administrative assistant, secretary, or receptionist

preferred

Strong organizational, communication, and time-management skills

Proven ability to work in a fast-paced environment

Positive, high-energy attitude

Resourcefulness, creativity, and problem-solving skillset

Strong cultural awareness and sensitivity

Familiarity with office equipment (i.e. printers, fax machines, projectors)

Proficiency in Microsoft Office (especially MS Excel and PowerPoint)
ADA SPECIFICATIONS (Physical demands that must be met to successfully complete the essential functions of the job List items such as unusual work schedule, occupational risk, travel required, physical effort, environment, and demands that must be met to perform the essential functions of the job.)
---

How We Work: Nonprofit HR's Commitment to Diversity, Inclusion & Difference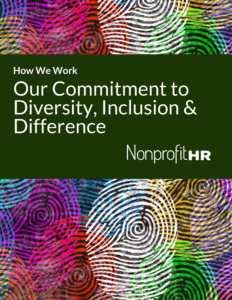 It is a high priority for us to foster and maintain an environment where diversity and inclusion are valued and realized to the benefit of you and the clients that we serve.
We believe strongly in treating everyone fairly and value the full diversity of our colleagues, clients, partners and vendors. Inclusion is how we live our commitment to fairness and diversity. It shapes how we honor the perspectives, abilities and identities of our colleagues; how we listen to, engage and respond to our clients; and how we connect to and appreciate each other and those we serve. We define diversity as differences that influence and affect our firm, our workplace culture, and the communities and clients we engage in the following areas: race, color, ethnicity, national origin, socioeconomic status, pay and benefits, ability, military service, age, faith, gender, sexual identity, personal appearance, pregnancy, and political views. Continue reading our about our commitment to diversity, equity and inclusion at nonprofithr.com/deinow.