Grants Manager (Everybody Votes Campaign)
Washington, DC
Full Time
Experienced
ABOUT EVERYBODY VOTES CAMPAIGN
Everybody Votes Campaign (EVC) is a national non-partisan, not-for-profit hiring staff for a large-scale coordinated civic engagement campaign active through the 2024 election cycle. The campaign aims to create a more representative democracy by registering millions of underrepresented voters across the country. This effort focuses on voter registration in a targeted fashion by conducting at-scale, effective, efficient, metrics-driven registration work. Through this work, we seek to fundamentally change the make-up of the electorate and to increase the political power of traditionally underrepresented communities in our democracy.
We directly fund organizations who execute voter registration and run quality control operations. We are dedicated to being active participants with the organizations to ensure their programs are effective and promote an investment in the future of emerging communities.
ABOUT THE OPPORTUNITY
The organization seeks to hire a Grants Manager who will be responsible for managing the grants to partners process. The position requires the utmost professionalism in dealing with partners. We seek a candidate who will operate with discretion, who can work within deadlines, who can consistently provide support to a variety of staff and operations, and who can implement the systems and procedures necessary to ensure the smooth financial running of the campaign.
The Grants Manager will work as part of the Finance and Operations team. They will be responsible for the oversight of the grants process, including creating and disseminating grant agreements with state and national partners, ensuring they are legally and fiscally sound, and distributing funds in a timely manner. They will also work with the Program team to facilitate partner grants and ensure compliance with all financial and accounting regulations. The ideal candidate will be well-versed in grants management, including budgeting and contracting.
WHAT YOU WILL DO IN YOUR ROLE
Manage all payments coming out of the Program budget, including those to state and national partners and field vendors, including multi-state partners funded nationally.

Help identify and implement new CRM software, including training other staff members.

Create agreement and addenda templates, working with Program and legal teams as needed.

Design the timeline of partners' request for proposal (RFP) process, in consultation with the Finance and Program teams.

Train Program team on implementation of RFP timeline and expectations.

Create partner budget templates for various project types.

Design systems for tracking grant process and progression.

Communicate with Finance team on cash forecasting and any changing timelines in the grant process.
CORE COMPETENCIES
Growth mindset: demonstrated ability to take and receive feedback with professionalism and grace from peers and staff as well as supervisors.

Relentlessly goal-oriented: enjoys working toward and achieving ambitious goals; willing to go over, under, around, or through any obstacle that gets in the way of meeting goals with a proven track record of creating and executing/managing comprehensive strategic goals.

Cultural competency: able to build relationships and collaborate with colleagues, partners, and stakeholders across multiple lines of identity difference.

Keeps calm in stressful situations: demonstrated capacity and willingness to work long hours. during peak season, rolling up their sleeves and getting the work done.
REQUIREMENTS FOR THIS ROLE
Grant, contract administration, or accounting/business administration experience.

Track record of effective working relationships with diverse stakeholders and ability to work as a part of a team and across departments.

Excellent interpersonal, analytical, and communication skills, both written and spoken.

Strong organizational, project management, and financial abilities.

Experience with CRM software, particularly Microsoft Dynamics, and strong proficiency with Google Sheets and Microsoft Excel.

Commitment to and passion for organization's mission.
Helpful but not required:
Experience working in the fields of voter registration or voting rights.
BENEFITS AND CULTURE
We offer flexible remote forward work, and a generous benefits package, including 100% cost coverage of employee health benefits, 401K with an automatic employer contribution regardless of employee contribution level, virtual therapy, a stipend for ergonomic office set ups, and generous vacation and leave policies.
Salary: $80,000 - 90,000 annually
**Please upload your resume and cover letter and three professional references. Only competitive candidates will be contacted and invited to participate in the selection process. Applications are accepted until the position is filled. Salary will be commensurate with experience. We offer a generous benefits package, including excellent health benefits and generous vacation and leave policies.
We embrace principles of nondiscrimination on the basis of race, color, religion, national origin, gender, age, disability, sexual orientation, or transgender or veteran status.
---

Our Commitment to Diversity, Equity, Inclusion & Belonging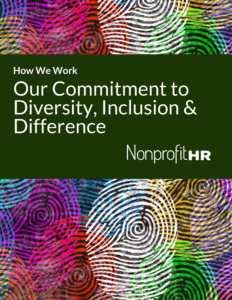 Nonprofit HR is committed to fostering and maintaining a work environment where diversity, equity, and inclusion (DEI) are fully integrated into everything we do for the benefit of our employees and the clients that we serve. To fully realize our goal, we prioritize our understanding of the complexities of DEI within our workforce to inform our approach to talent management. We believe that this guides how we do our work, advise our clients to operationalize DEI and position our content and educational opportunities help strengthen the talent management capacity of the social impact sector.
Continue reading our about our commitment at nonprofithr.com/deinow.
Apply for this position
Required*