Senior Specialist, User Experience (AGU)
Washington, DC
Full Time
Mid Level
Title: Senior Specialist, User Experience
Position Type: Full-Time
Location: Washington, DC
What we do and offer our team
AGU is a global community of 130,000 Earth and space scientists, advocates and experts. As the Senior Specialist, User Experience, you will support a dynamic association that publishes peer-reviewed journals and scientific books and convenes the largest Earth and space science meeting in the world. Through our initiatives, such as mentoring, professional development and awards, AGU upholds and fosters an inclusive and diverse scientific community.
AGU offers our employees great benefits, including flexible work schedules, retirement savings options, as well as health, dental, life and disability insurance. AGU also provides exciting opportunities for professional development and tuition support.
AGU's Workplace Values
We believe in accountability and ownership of work, by taking responsibility for decisions and results. We believe in member and customer service, and that they come first through providing high quality service.
We believe in excellence and giving it our all, through striving to be outstanding. We believe in integrity by doing the right thing, we achieve this by being honest and fair.
Our teams believe that with teamwork together we achieve more, we achieve this through collaboration. We believe in respect, that you earn it and give it, by open communication and collaboration.
What the Senior Specialist, User Experience does
The Senior Specialist, User Experience position is key in assisting AGU to promote discovery in Earth and space science for the benefit of humanity, by being operational in focus. The purpose of the Senior Specialist, User Experience role is to support the creation of products with superior user experiences that support and inspire a global community of individuals and organizations interested in advancing discovery in Earth and space sciences and its benefit for humanity and the environment.
Reporting to Director, Digital Products, the incumbent in this role will work with the Digital Innovation team, outside developers and other AGU staff to analyze existing digital products, understand product goals and design experiences that deliver upon these goals.
• Participates in the development of new digital products by translating concepts into user flows, wireframes, mockups, and prototypes that lead to intuitive user experiences.
• Makes strategic design and user-experience decisions related to core, and new, functions and features.
• Identifies design problems in existing AGU digital products and devises elegant solutions.
• Understands the desired user experience of scientists when conducting research, finding collaborators, and sharing their work, utilizing a global perspective.
• Takes a user-centered design approach and rapidly tests and iterates the designs.
• Assists in the design and implementation of A/B tests to evaluate solutions and choose the ideal paths.
• Participates in other department projects as needed.
• Other duties as assigned.
What the Senior Specialist, User Experience brings to the team
• Bachelor's degree with 3-5 years of UX design experience, or equivalent combination of education and experience.
• Experience in designing complex solutions for global audiences, preferably in a B2B context is strongly preferred.
• Extensive experience in using UX design best practices to design solutions, and a deep understanding of mobile-first and responsive design.
• Experience or specialized knowledge of the non-profit field is a plus.
• Ability to identify and analyze problems, generate solutions, and implement recommendations.
• Excellent oral and written communication skills. Ability to translate technical information to non-technical terms, both verbally and in written format.
• Excellent computer skills including strong understanding of databases, Adobe Acrobat, and Microsoft Office.
• Knowledge of standard UX software tools required; basic HTML5, CSS3, and JavaScript skills are a plus.
• Demonstrated ability to meet strict deadlines and to balance competing priorities.
• Strong organization skills, accuracy and attention to detail.
• Ability to multi-task in a fast-paced environment with tight deadlines.
• Must be comfortable working independently and collaboratively.
• Flexible and able to work with routinely shifting priorities.
• Ability to patiently deal with customers, both internal and external.
• Demonstrated strong customer service orientation, problem management, user requirements analysis and process, and diagnostic questioning techniques.
• Excellent problem-solving and troubleshooting skills.
To Apply:
For consideration, please submit your cover letter and resume.
The successful candidate for this position will be subject to a pre-employment background check and verification of vaccination against COVID-19 by the date of hire as a condition of employment, subject to requests for any legally required accommodation.
AGU proudly offers a casual work environment, excellent compensation, generous work-life opportunities, and an outstanding benefits package.
AGU is an Equal Opportunity/Affirmative Action employer. Minorities, women, veterans and individuals with disabilities are encouraged to apply.
---

Our Commitment to Diversity, Equity, Inclusion & Belonging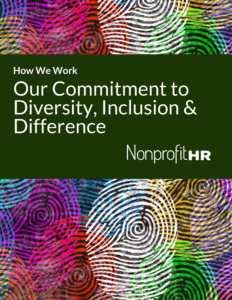 Nonprofit HR is committed to fostering and maintaining a work environment where diversity, equity, and inclusion (DEI) are fully integrated into everything we do for the benefit of our employees and the clients that we serve. To fully realize our goal, we prioritize our understanding of the complexities of DEI within our workforce to inform our approach to talent management. We believe that this guides how we do our work, advise our clients to operationalize DEI and position our content and educational opportunities help strengthen the talent management capacity of the social impact sector.
Continue reading our about our commitment at nonprofithr.com/deinow.
Apply for this position
Required*